Zacatecas, Mexico map, S.E. Section 11/16
This map shows the major cities (ciudades) of:

San Antonio del Cipres, El Bordo Buenavista, Casa Blanca, Tacoaleche, Guadalupe, Trancoso, La Tesorera, San Jerónimo de Palmillas, General Pánfilo Natera, El Refugio, Santa Elena, Ojo Caliente, Jarillass, San Pablo, Villa González Ortega, Cerrito de Agua, Milagros, Pastoria, Estancia de Animas, Noria de Angeles, Luis Moya, Villa Hidalgo, Tierra Blanca, Loreto, Estancia de Guadalupe, El Nigromante.

The map also shows the towns (pueblos) of:

Laguna Seca, El Espejo, Chaparros, San Juan, San José de la Era, Panuco, Veta Grande, El Porvenir, Zoquitesan José del Carmen, Noria del Cerro, La Zacatecana, La Verde, San Cristóbal, Bajío de San Nicolás, Tlacotes, El Centenario, Santa Inés, Paso de Méndez, Piedra Gorda, La Concepción, La Lagunita, La Ballena, Genaro Codina, Esteban Castonera, San Pedro gordo, Rancho Nuevo, Saucedo de Mulatos, Colonia Madero, El Coecillo, Noria de Molinos, Maravillas, Guadalupe Victoria, Colonia Alvarado, Ignacio Zaragoza, El Tepetate, San Marcos, Alquería, La Victoria, Villa García, Agua Gorda, Granadas, Montesa.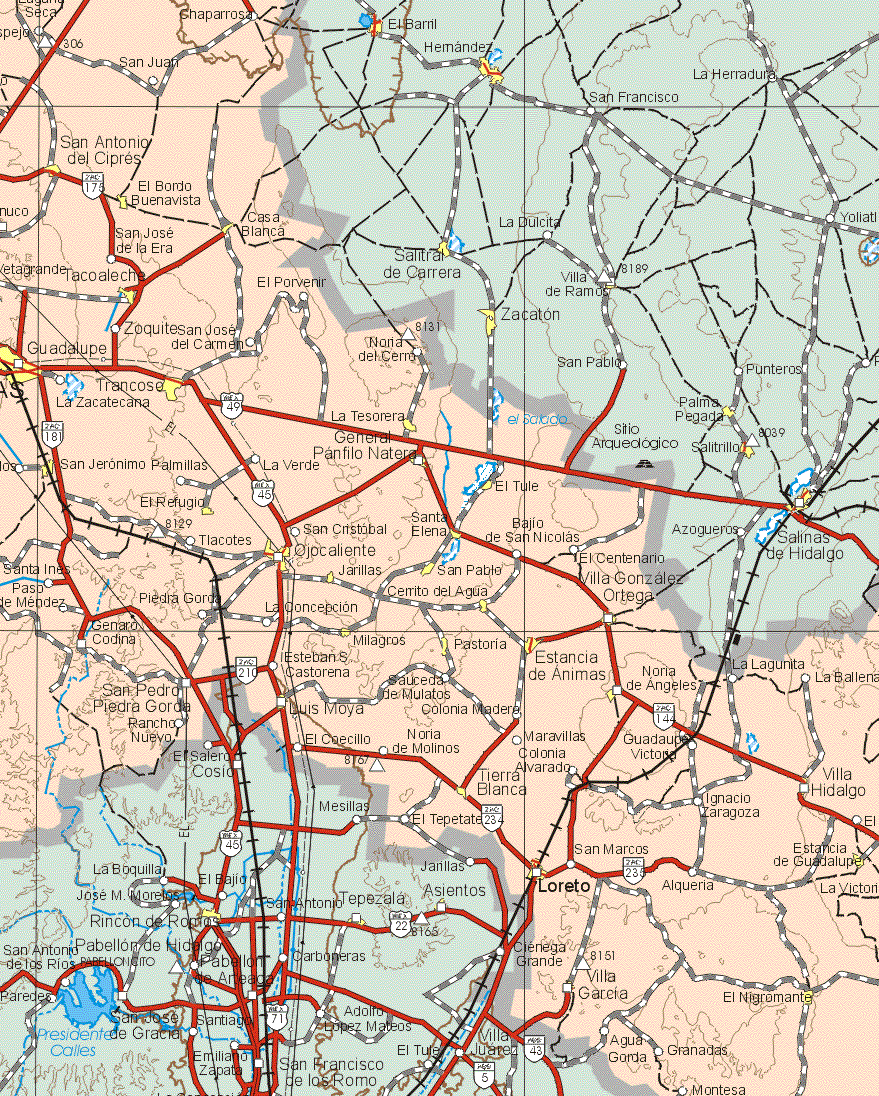 Back to the main Zacatecas, Mexico map
Zacatecas map, Zacatecas maps, Zacatecas, Zacatecas mexico, map of Zacatecas, mapa de estado, where is Zacatecas?, mapas de Zacatecas, mapa de Zacatecas, Zacatecas mexico, map of Zacatecas, maps of Zacatecas, mexico Zacatecas, Zacatecas state, Zacatecas tourism, Zacatecas vacation, Zacatecas vacations, Zacatecas travel, Zacatecas mexico, Zacatecas