Zacatecas, Mexico map, W. Section 5/16
This map shows the major cities (ciudades) of:

Ejido Colectivo Zaragoza, Colonia Gral. J. González Ortega, Mateo Gómez, Mateo Gómez, charco Blanco, Villa insurgentes, Ojo de Agua, Sombrete, José Maria Morelos.

The map also shows the towns (pueblos) of:

Emilio Carranza, Manantial de la Honda, Milpillas, Colonia Hidalgo, Colonia Miguel Alemán, Colonia Flores García, Doroteo Arango, Agua Zarca, Ignacio Allende, Colonia José Maria Morelos, San José de Félix, Emiliano Zapata, San Martín, Gualterlo, Ignacio Zaragoza Frío, Felipe Angeles, San José de Ranchos, Chalchihuites, San José de Mesillas, El Escritorio, La Colorada, Molina, Estancia de Guadalupe, Jiménez de Teul, Ojo de Agua la Batea, Ejido del Niño Artilleco, Refugio de los Pozos.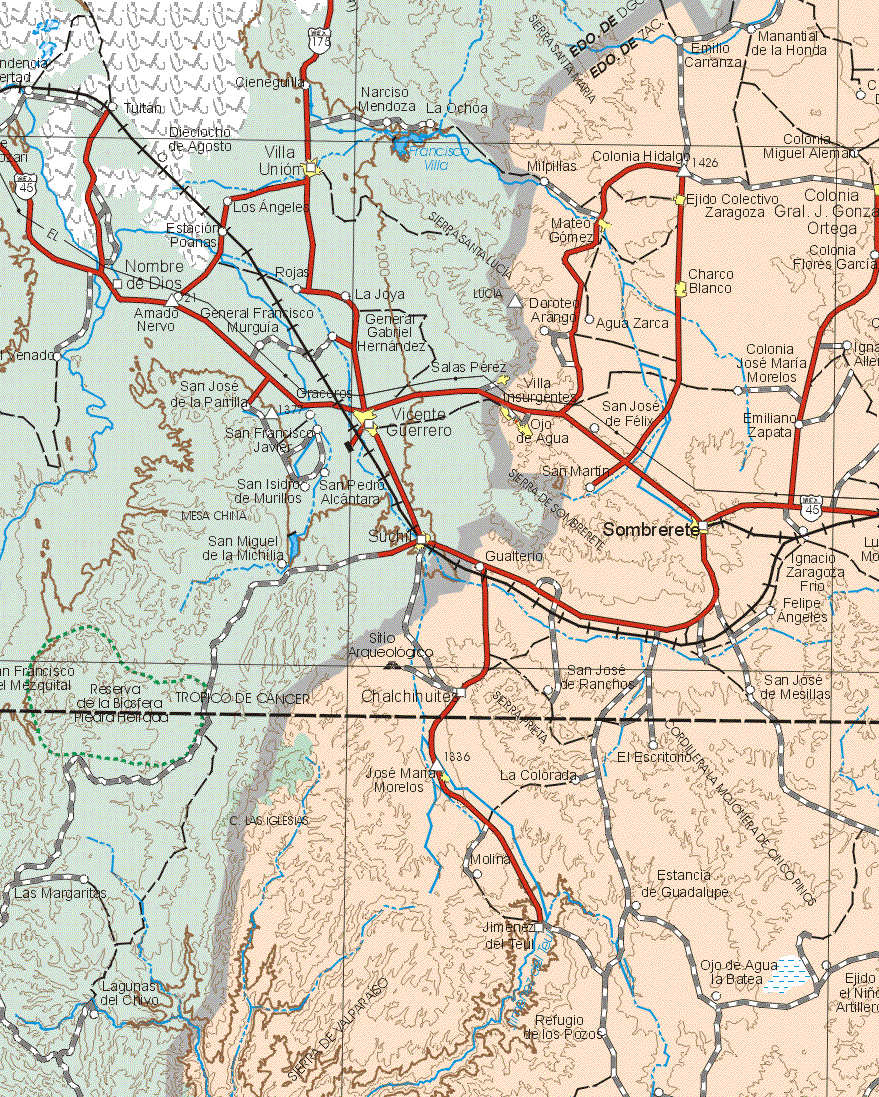 Back to the main Zacatecas, Mexico map
Zacatecas map, Zacatecas maps, Zacatecas, Zacatecas mexico, map of Zacatecas, mapa de estado, where is Zacatecas?, mapas de Zacatecas, mapa de Zacatecas, Zacatecas mexico, map of Zacatecas, maps of Zacatecas, mexico Zacatecas, Zacatecas state, Zacatecas tourism, Zacatecas vacation, Zacatecas vacations, Zacatecas travel, Zacatecas mexico, Zacatecas