Yucatan, Mexico map, S.E. Section 11/16
This map shows the major cities (ciudades) of:

Yaxcaba, Xcalakatzonot, Poop, Ekpedz, Ichmul.
The map also shows the towns (pueblos) of:

Chimay, Yaxunah, Xcocail, Chankom, Tzeal, X Bojom, Chebalan, Tixcacalcupul, Xkoptell, Xakabchen, Xaniah, Kancabatzona, Santa Maria, Muchucuxcah, Dzidzilche, Canakam, Yokatzond Hu, X Pocbichen, Celtun, X Jabin, Nuevo X Jabin, Xuxcab, Chibilub, Huechimbalam, San Pedro, Chan Chimitla, Xchac Hua, Tixcancat Dzonat, Chan Santa Maria, Chancaba Nuevo, San Jose, Yohactun, Carolina, San Pedro, Chikindzonat, Mahas, Tinolopop, X Thabil, San Marcos, Tinuncah, Xlapak, Xcabanche, Balche, X Nicteil, xchucteil, San Bernabé, Santa Elena, Papacal, Chan Clotmul, Dzonatchel, Progresito, San Dionido, Petulillo.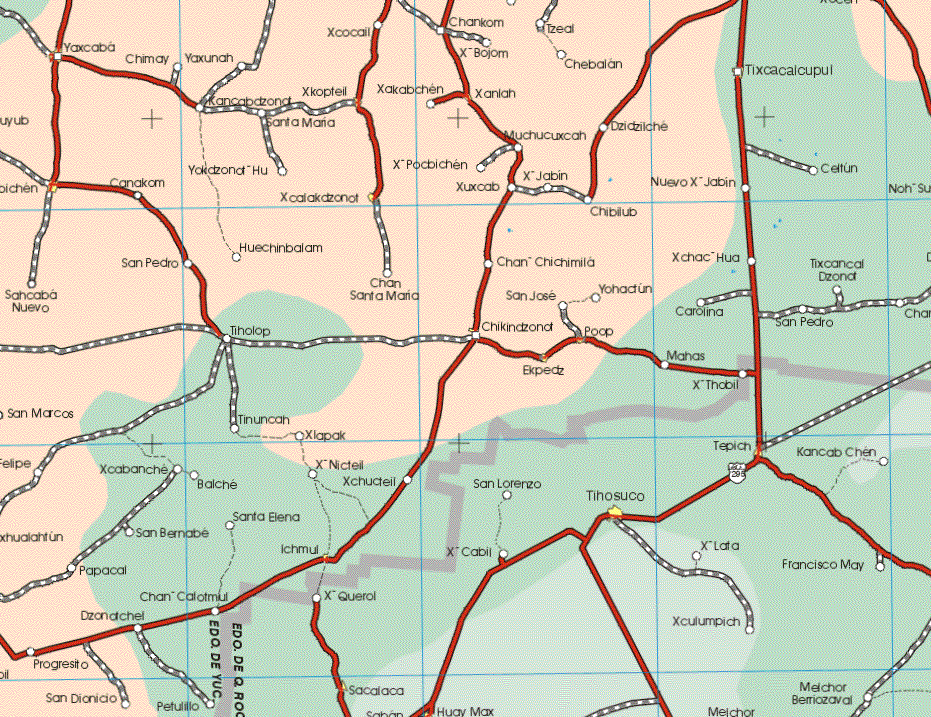 Back to the main Yucatan, Mexico map
Yucatan map, Yucatan maps, Yucatan, Yucatan mexico, map of Yucatan, mapa de estado, where is Yucatan?, mapas de Yucatan, mapa de Yucatan, Yucatan mexico, map of Yucatan, maps of Yucatan, mexico Yucatan, Yucatan state, Yucatan tourism, Yucatan vacation, Yucatan vacations, Yucatan travel, Yucatan mexico, Yucatan