Veracruz, Mexico map, S.E. Section 11/16
This map shows the major cities (ciudades) of:

Veracruz, Boca del Río, Cocutla.

The map also shows the towns (pueblos) of:

Mandinga y Maloza, Anton Lizardo, La Laguna, El Bayo, Los Robles, Las Piedras, Palma Sola, Salinas, Pozuelos, El Nanchar, Arbolillo, Alvarado, Tlaxcoyan, El Sauce, Ignacio de la Llave, El Progreso del Majahual, Salinas Roca Partida, Lerdo de Tejada, Zacate Colorado, La Laguna, Playa Hermosa, Tlacotalpan, Santa Teresa, La Nueva Victoria, isla de Pajarillos, Pozo de Aros, El Moral, Saltabarranca, Angel R. Cabada, La Nueva Victoria, Tacolipan, San Andrés, La Palma.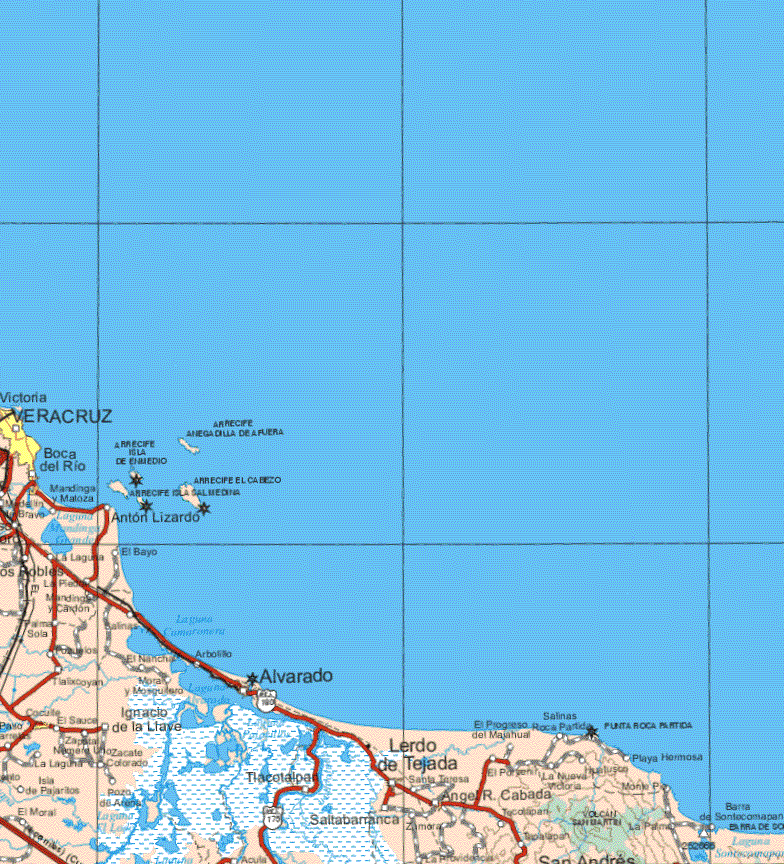 Back to the main Veracruz, Mexico map
Veracruz map, Veracruz maps, Veracruz, Veracruz mexico, map of Veracruz, mapa de estado, where is Veracruz?, mapas de Veracruz, mapa de Veracruz, Veracruz mexico, map of Veracruz, maps of Veracruz, mexico Veracruz, Veracruz state, Veracruz tourism, Veracruz vacation, Veracruz vacations, Veracruz travel, Veracruz mexico, Veracruz