Tlaxcala, Mexico map, N.E. Section 7/16
This map shows the major cities (ciudades) of:

Lázaro Cárdenas, Toluca de Guadalupe, Terrenate, Apizaco.

The map also shows the towns (pueblos) of:

Tepexahualco la Capilla, Emiliano Zapata, Santa Rosa Zacapexco, Capula, San Pedro Ecatepec, Plan de Ayala, Tenexac, José Maria Morelos, Atecatzingo, Chaucingo, Guadalupe Texcalac, Tetla, Guadalupe Victoria, El Capulín, San Luis Apizaquito, Texmolac, Nicolás Bravo.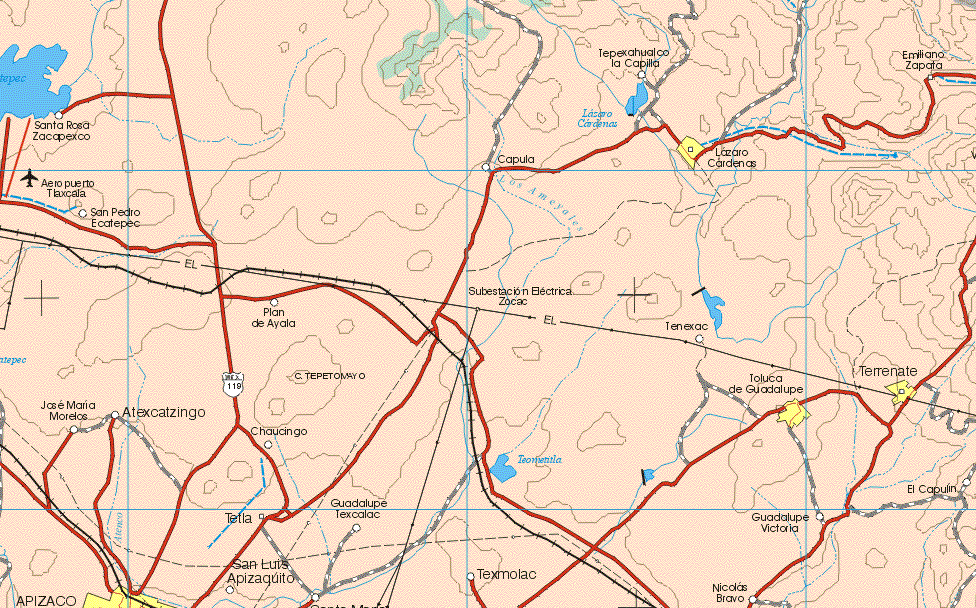 Back to the main Tlaxcala, Mexico map
Tlaxcala map, Tlaxcala maps, Tlaxcala, Tlaxcala mexico, map of Tlaxcala, mapa de estado, where is Tlaxcala?, mapas de Tlaxcala, mapa de Tlaxcala, Tlaxcala mexico, map of Tlaxcala, maps of Tlaxcala, mexico Tlaxcala, Tlaxcala state, Tlaxcala tourism, Tlaxcala vacation, Tlaxcala vacations, Tlaxcala travel, Tlaxcala mexico, Tlaxcala