Tlaxcala, Mexico map, S.W. Section 10/16
This map shows the major cities (ciudades) of:

Villa Mariano Matamoros, Panotla, Tlaxcala de Xicohtencatl, Tepetitla.

The map also shows the towns (pueblos) of:

Santiago de Pipilota, La Soledad, La Caridad Cuaxonacayo, San Simón Tlatlauhquitepec, Alpozonga de Lira y Ortega, Santa Rosa de Lima, San Marcos Jilotepec, Huexoyucan, Huilocapan, Santa Cruz el Porvennir, La Trinidad Tenexyecac, Los Reyes Quiahuixtlan, Santiago Tepeticpac, Tizostoc, Totolac, Ecatepec, San Jorge Tezoquipan, Xocoyucan, Villa Alta, San Lucas Atoyanenco, San Mateo Ayecac, Santa Inés Tecuexcomac, Santa Ana Nopalucan, Xiloxochita, San Damián Texoloc, San Lucas Cuauhtetulpan, Coamilpa, Acuitlapilco, Santa Isabel Xiloxoxtla, La Magdalena Tlaltelulco, Apetatitlan.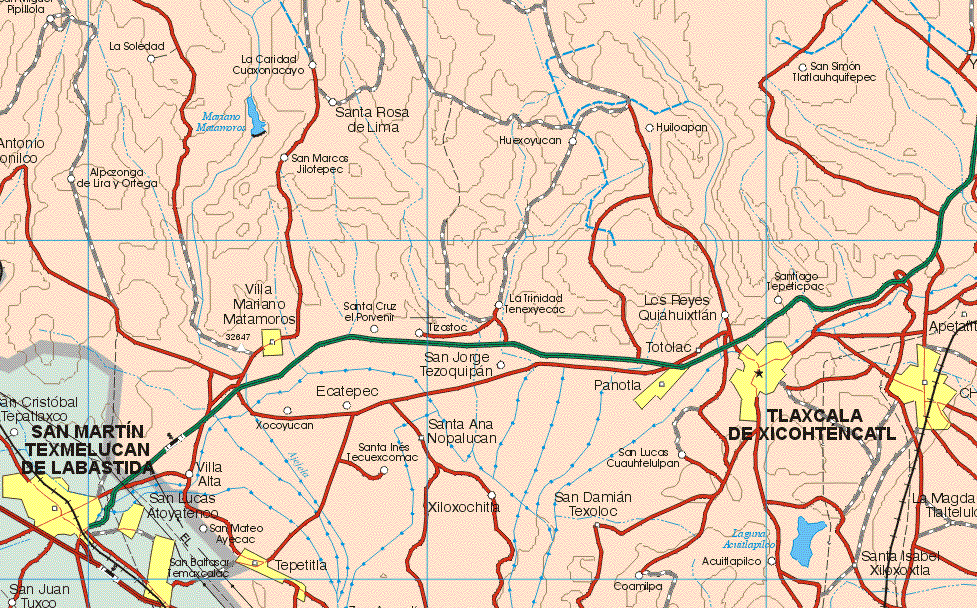 Back to the main Tlaxcala, Mexico map
Tlaxcala map, Tlaxcala maps, Tlaxcala, Tlaxcala mexico, map of Tlaxcala, mapa de estado, where is Tlaxcala?, mapas de Tlaxcala, mapa de Tlaxcala, Tlaxcala mexico, map of Tlaxcala, maps of Tlaxcala, mexico Tlaxcala, Tlaxcala state, Tlaxcala tourism, Tlaxcala vacation, Tlaxcala vacations, Tlaxcala travel, Tlaxcala mexico, Tlaxcala