Tamaulipas, Mexico map, S.W. Section 13/16
This map shows the major cities (ciudades) of:

Ciudad de Tula, Lázaro Cárdenas.

The map also shows the towns (pueblos) of:

Morelos, San Juanito, Bustamante, Matías García, La Cardona, Felipe Angeles, El Llano y Anexas, El Aguacate, Palmillas, La Verdolaga, Calabacillas, Montevideo, Ejido de Flores, San Rafael, Paso Real de Guerrero, Ejido de Flores, San Rafael, Nicolás Medrano, Francisco Medrano, Emilio Vázquez Gómez, El Refugio, Altamira, San Antonio de Nahala, Veinte de Noviembre, Los Charcos, Tanque Blanco, Miguel Hidalgo, Francisco I. Madero, Las Flores, Emiliano Zapata, Magdaleno Cedillo, Lucio Vázquez, Las Cruces, La Providencia, Gallos Grandes.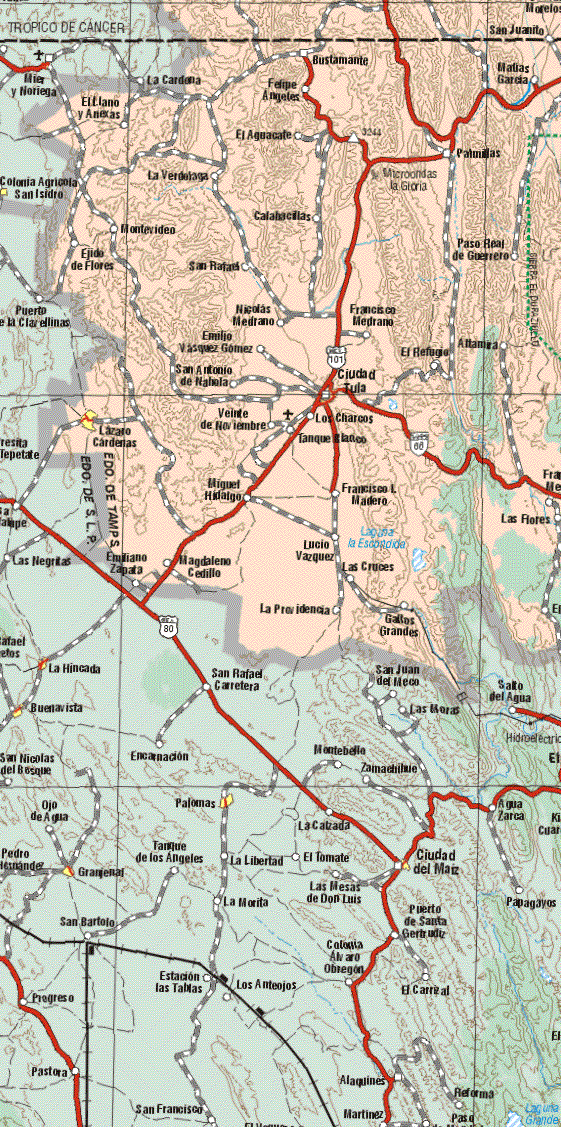 Back to the main Tamaulipas, Mexico map
Tamaulipas map, Tamaulipas maps, Tamaulipas, Tamaulipas mexico, map of Tamaulipas, mapa de estado, where is Tamaulipas?, mapas de Tamaulipas, mapa de Tamaulipas, Tamaulipas mexico, map of Tamaulipas, maps of Tamaulipas, mexico Tamaulipas, Tamaulipas state, Tamaulipas tourism, Tamaulipas vacation, Tamaulipas vacations, Tamaulipas travel, Tamaulipas mexico, Tamaulipas