Tabasco, Mexico map, S.E. Section 16/16
This map shows the major cities (ciudades) of:

Arena de Hidalgo, Ingenio Hermenegildo Galeana.

The map also shows the towns (pueblos) of:

El Faisán 2ª Sección, Guadalupe Victoria, Benito Juárez, La Palma, El Palmar, Javier Rojo Gómez, Santa Cruz, Luis Echeverría Alvarez, Adolfo López Mateos, Emiliano Zapata, Acatlipa, La Ultima Lucha, El Pedregal, San Marcos, Francisco I. Madero, Francisco I. Madero Cortazar, Francisco Villa, Niños Héroes, Corregidora Ortiz de Domínguez, Castillo Nuevo 1ª Sección, El Progreso, La Nueva Estancia, Miguel Hidalgo, San Francisco, El Martillo.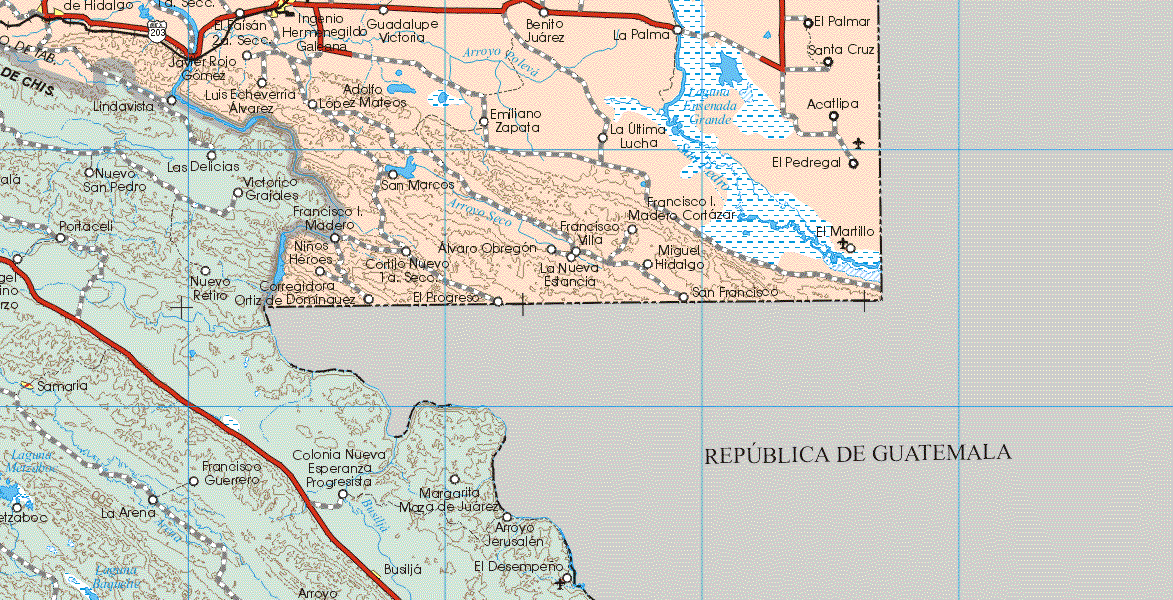 Back to the main Tabasco, Mexico map
Tabasco map, Tabasco maps, Tabasco, Tabasco mexico, map of Tabasco, mapa de estado, where is Tabasco?, mapas de Tabasco, mapa de Tabasco, Tabasco mexico, map of Tabasco, maps of Tabasco, mexico Tabasco, Tabasco state, Tabasco tourism, Tabasco vacation, Tabasco vacations, Tabasco travel, Tabasco mexico, Tabasco