Sinaloa, Mexico map, N.W. Section 1/16
This map shows the major cities (ciudades) of:

El Fuerte, Chávez Tlamontes, Lic. Gustavo Díaz Ordaz, Poblado Cinco, Jahuara, Chihuahuita, Alfonso Genaro Calderón, San Blas, Higuera de Zaragoza, San Miguel Zapotitlan, Zapotito N. Uno, Constancia, Villa de Ahome.

The map also shows the towns (pueblos) of:

Picachos, Pajaritos, Buyubampo, El Mahon, Arroyo de los Armenta, Baroten, Niños Héroes de Chapultepec, Boca de Arroyo, Vivajaqui, Estación Hoyanco, Bajada del Monte, Tenueco, Las Estacas, Tepic, Jitzamuri, Bolsa de Tosalibampo N. Uno, Sibajahui, Los Ojitos, Las Lajitas, San Pablo, El Ranchito, Tabelojeca, Natoches, La Palma, Charay, Gallo Viejo, La Despensa, El Capricho, San José, El Capricho, El Cochi, San Ignacio de Santa Maria.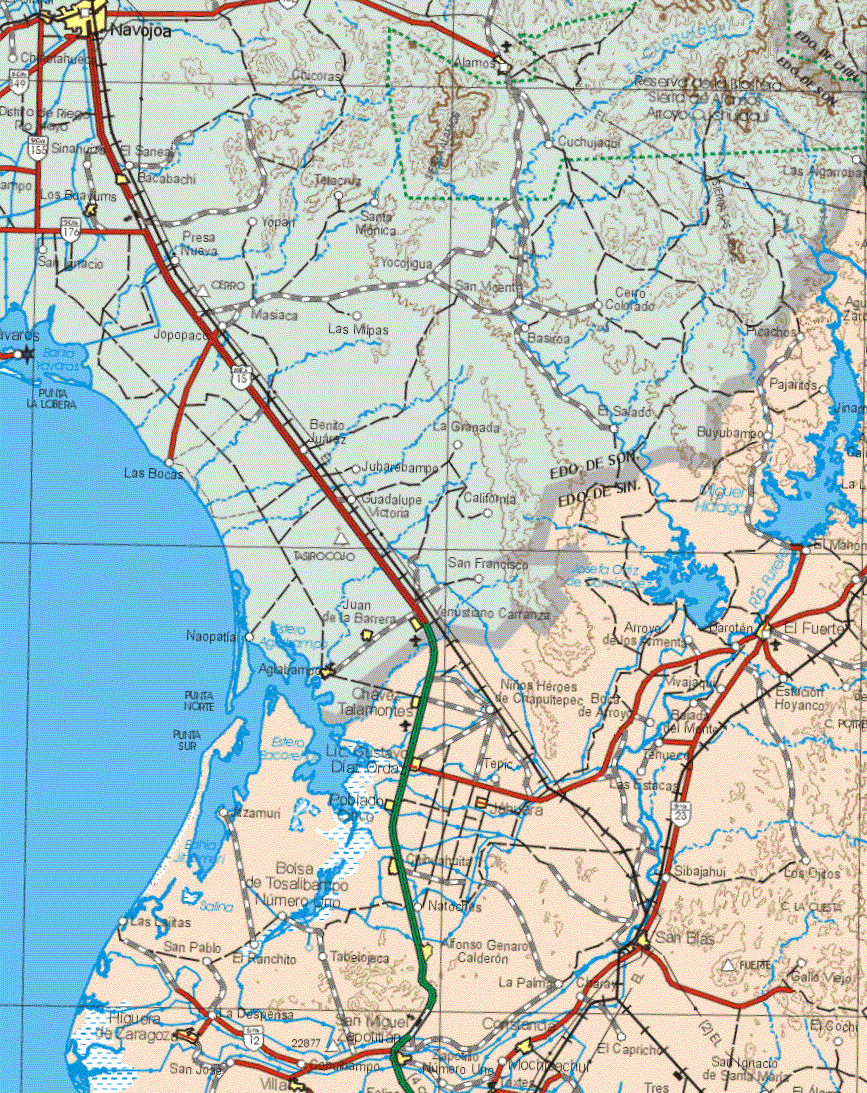 Back to the main Sinaloa, Mexico map
Sinaloa map, Sinaloa maps, Sinaloa, Sinaloa mexico, map of Sinaloa, mapa de estado, where is Sinaloa?, mapas de Sinaloa, mapa de Sinaloa, Sinaloa mexico, map of Sinaloa, maps of Sinaloa, mexico Sinaloa, Sinaloa state, Sinaloa tourism, Sinaloa vacation, Sinaloa vacations, Sinaloa travel, Sinaloa mexico, Sinaloa