San Luis Potosi, Mexico map, S.E. Section 16/16
This map shows the major cities (ciudades) of:

San Vicente Tancuayatab, Tanquian de Escobedo, Tamazunchole.

The map also shows the towns (pueblos) of:

La Lima, Nueva Primavera, Las Sabinas, El Chote, Tampacoy, La Confianza, Moctezuma, El Saucillo, San José el Viejo, La Pila, El Sidral, San Miguel, El Detalle, Santa Anita, Las Almas, Tanchanacio, Ojo Caliente, Tanzazolo, Aquismon, Tamapatz, San Pedro Huitzquilico, La Herradura, Ollita de Pino, El Pujal, San José del Tinto, El Chijo, Rancho Largo, Turu, El Conejo, Tantabal, San Francisco Cuayatab, Xilatzen, San Nicolás, Linares, Tantajos, Santo Martín, San Antonio, Tancanhuriz, Tiutzan, Huhuetlan, Tampamolon Corona, Coxcatlan, Suchiaco, Aquicha, Axtla de Terrazas, Tampacen, Xititla, Pemoxco, Remoxco, Tlajumpal, Chicamol, Maltapa, Hueluco, Chatchocoyo, El Piñal, Chapulhuacanito, Tamo.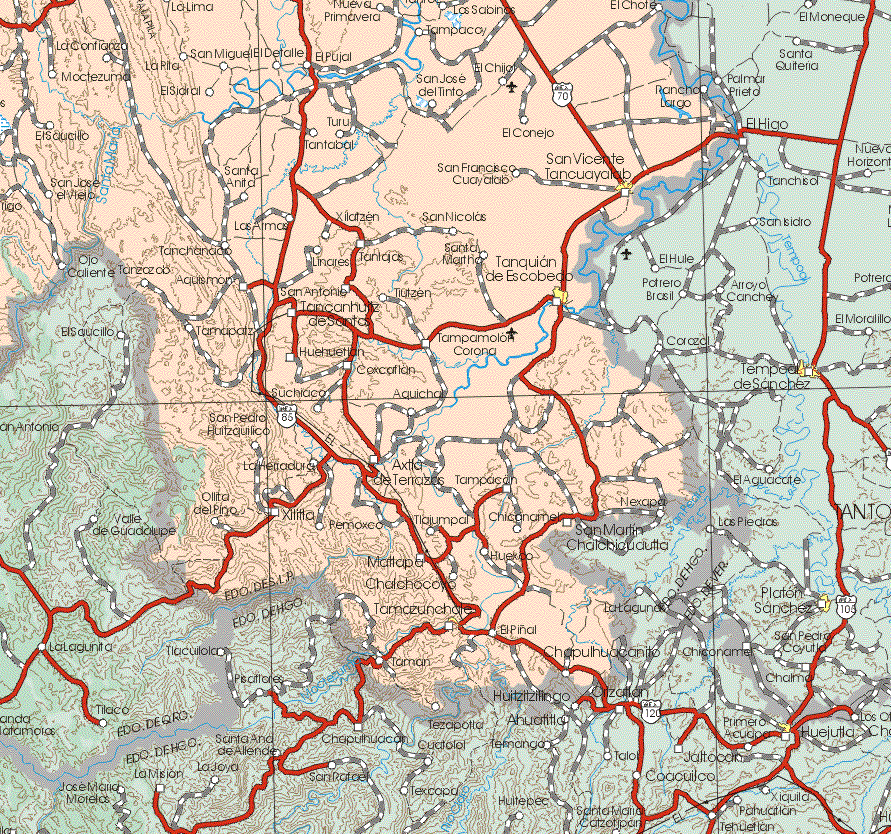 Back to the main San Luis Potosi, Mexico map
san luis potosi map, san luis potosi maps, san luis potosi, san luis potosi mexico, map of san luis potosi, mapa de estado, where is san luis potosi?, mapas de san luis potosi, mapa de san luis potosi, san luis potosi mexico, map of san luis potosi, maps of san luis potosi, mexico san luis potosi, san luis potosi state, san luis potosi tourism, san luis potosi vacation, san luis potosi vacations, san luis potosi travel, san luis potosi mexico, san luis potosi