San Luis Potosi, Mexico map, S.E. Section 11/16
This map shows the major cities (ciudades) of:

La Hincada, Las Moras, Salto del Agua, Buenavista, Palomas, Cerritos, Granjena, Tanque de los Angeles, La Libertad, Ciudad del Maíz, La Morita, Ciudad Juárez, Colonia Alvaro Obregón, Santa Rita, Cárdenas, La Noria, El Naranjo.

The map also shows the towns (pueblos) of:

San Agustín, Las Negritas, Emiliano Zapata, San Rafael de los Nietos, San Rafael Carretera, San Juan del Meco, Agua Nueva del Norte, El Meco, Montebello, Zamachihue, La Calzada, Agua Zaica, Kilómetro Cuarenta Y Dos, Ojo de Agua, San Pedro de los Hernández, El Tomate, La Mesa de Don Luis, Papagayas, Minas Viejas, Maltines, Palo Seco, San Bartolo, Santo Domingo, Progreso, Las Tablas, Los Anteojos, El Carrizal, Las Govias, El Quince, Carriza;, La Aurora, Atoquines, Pastoría, San Francisco, Martínez, Paso de Mendiolas, La Cañador, Ciudad Fernández, San Vicente, Higirio Olivo, Las Canoas, Agua Bueno, El Platanito.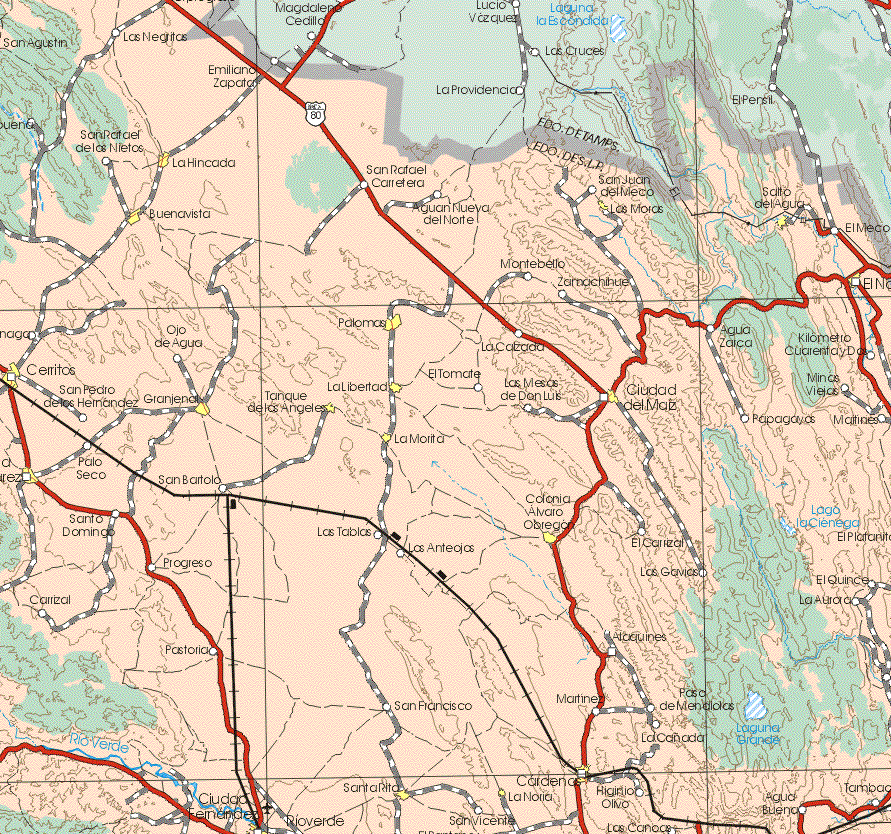 Back to the main San Luis Potosi, Mexico map
san luis potosi map, san luis potosi maps, san luis potosi, san luis potosi mexico, map of san luis potosi, mapa de estado, where is san luis potosi?, mapas de san luis potosi, mapa de san luis potosi, san luis potosi mexico, map of san luis potosi, maps of san luis potosi, mexico san luis potosi, san luis potosi state, san luis potosi tourism, san luis potosi vacation, san luis potosi vacations, san luis potosi travel, san luis potosi mexico, san luis potosi