San Luis Potosi, Mexico map, S.W. Section 10/16
This map shows the major cities (ciudades) of:

Moctezuma, Villa de Arista, San Luis Potosí, Soledad de Graciano Sánchez.

The map also shows the towns (pueblos) of:

Santa Teresa, La Luz, La Tapona, La Noria de las Flores, Pozas de Santa Ana, Los Amoles, Mojados, Cavellinas, El Tajo, El Tajo, El Realejo, La Yerbabuena, El Charquito, Abrego, San Isidro, Guadalcazar, Cucamo, Ancon, La Guaracha, Derramaderos, San Lorenzo, Bacas, Cerritos de Zavala, El Ojito, Tanque Nuevo, Peotillos, Los Petronitas, Valle Umbroso, La Mantequilla, Villa Hidalgo, Lagunilla, Joya de Luna, Ahualulco, El Carrizal, Correo Primero, Peñasco, El Aguaje Nuevo de la Cruz, Rincón del Refugio, Rincón del Porvenir, Son Ellas, Pozo del Carmen, Cerro Prieto, Mexquitio, Maravillas, Rinconada, Enrique Estrada, Armadillo de los Infantes, San Nicolás Tolentino, Paisanos, Cerro de San Pedro, Llanos de los Saldaña, Escalerillas, San Nicolás de los Jasos, Laguna de Santa Rita, Xoconastle, Los Arroyos, La Pila, Tepetate, Laguna de San Vicente, Villa de Zaragoza, La Esperanza, Texas, Sierra de Alvarez, Kilómetro Cincuenta y Ocho, Santa Catarina, Atotonilco, Ojo de Agua de San Juan.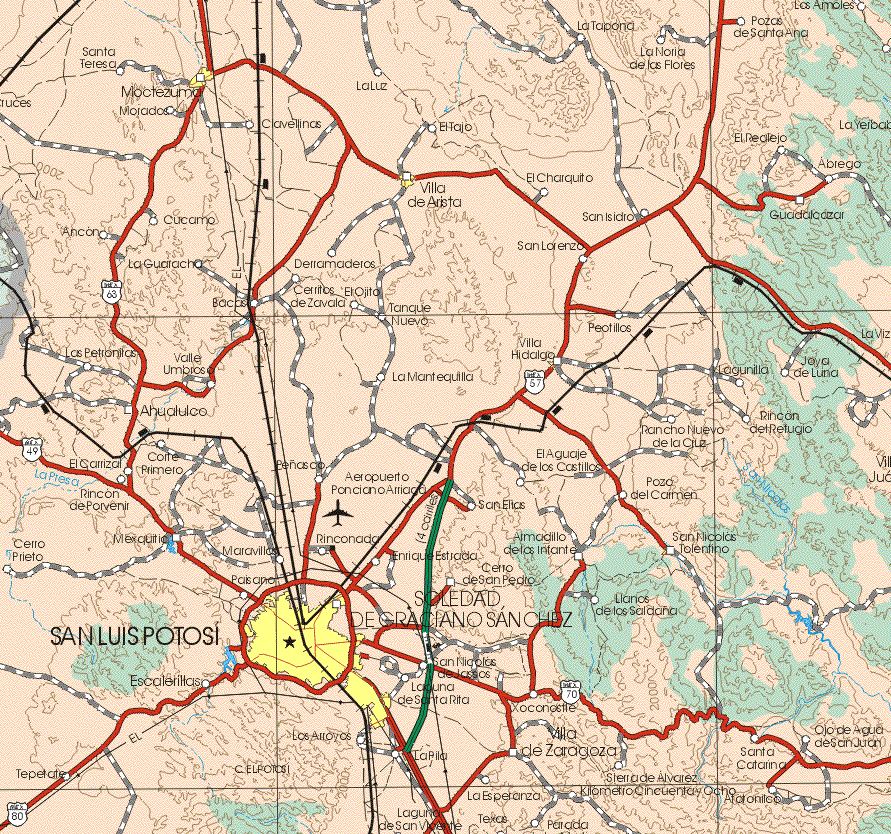 Back to the main San Luis Potosi, Mexico map
san luis potosi map, san luis potosi maps, san luis potosi, san luis potosi mexico, map of san luis potosi, mapa de estado, where is san luis potosi?, mapas de san luis potosi, mapa de san luis potosi, san luis potosi mexico, map of san luis potosi, maps of san luis potosi, mexico san luis potosi, san luis potosi state, san luis potosi tourism, san luis potosi vacation, san luis potosi vacations, san luis potosi travel, san luis potosi mexico, san luis potosi