San Luis Potosi, Mexico map, N.W. Section 6/16
This map shows the major cities (ciudades) of:

Matehuala, Tanque Colorado, San José del Plan, Zaragoza de Solís, Charcas, El Milagro de Guadalupe, Norias del Refugio, Venado.

The map also shows the towns (pueblos) of:

Tanque de Dolores, Estación Catorce, Villa de la Paz, Wadley, La Concordia, San José de Coronados, Noria de los Canos, La Luz, Encarnación de Abajo, Presa de Santa Gertrudis, La Biznaga, El Mezquite, Buenavista, San José de los Guajes, Villa de Guadalupe, El Carmen, San Antonio de las Barrancas, San Miguel, Rancho Alegre, Santa Cruz, Paso de Santa Clara, Noria Pinta, Estación Laguna Seca, San Antonio de la Ordeña, Estación Charcas, Los Alamos, Santa Rita de los Hernández, Palo Blanco, Vallejos, Santa Rita del Rocío, Tierra Blanca, Santa Teresa, San Juan Sin Agua, El Laurel, Santa Rita, La Polvora, El Matorral, El Ranchito, San Pedro, El Coyote, Entronque de Matehuala.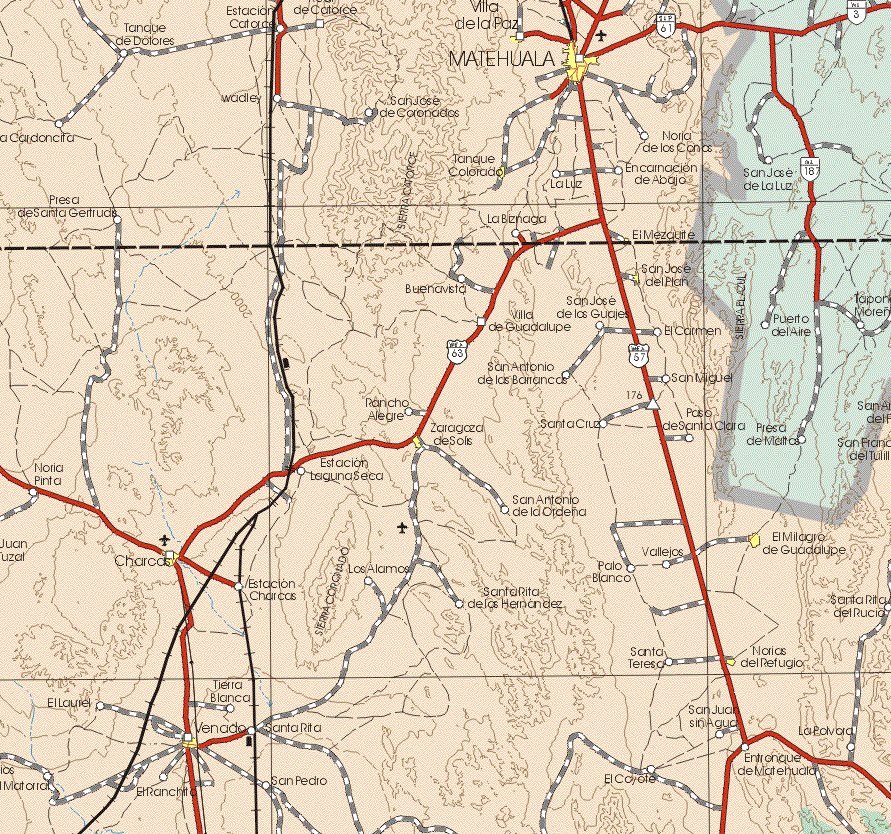 Back to the main San Luis Potosi, Mexico map
san luis potosi map, san luis potosi maps, san luis potosi, san luis potosi mexico, map of san luis potosi, mapa de estado, where is san luis potosi?, mapas de san luis potosi, mapa de san luis potosi, san luis potosi mexico, map of san luis potosi, maps of san luis potosi, mexico san luis potosi, san luis potosi state, san luis potosi tourism, san luis potosi vacation, san luis potosi vacations, san luis potosi travel, san luis potosi mexico, san luis potosi