Quintana Roo, Mexico map, S.W. Section 10/16
This map shows the major cities (ciudades) of:

Felipe Carrillo Puerto, Bacalar, Lázaro Cárdenas.


The map also shows the towns (pueblos) of:

Chunhuhub, Tampak, Laguna Kana, Ko- Chem, Santa Isabel, Yoactun, El Ramonal, Nuevo Plan de la Noria, Margarita Maza de Juárez, Chichmuc, Noh-Cah, Santa Maria Poniente, Chau Santa Cruz, Mixtequilla, San Andrés, X-Hazil Sur, Presidente Juárez, Naranjal Poniente, Nueva Noria, Petcab, Ignacio Manuel Altamirano, Corozo, Valle Hermoso, Guadalupe Victoria, La Pantera, Nohbec, Guadalupe Victoria, El Progreso, Los Divorciados, Manuel Avila Camacho, Nuevo Jerusalén, Chacchoohen, Limones, La Buena Fe, Kuchumatan, Lázaro Cárdenas, Buena Esperanza, Blanca Flor, Maya Balam, Caamlunmil, Paraíso, San Carlos, Buenavista, Altos de Sevilla, Reforma, Miguel Hidalgo y Costilla, San isidro, La Laguna, Lázaro Cárdenas, Raudales, Luis Echeverría Alvarez.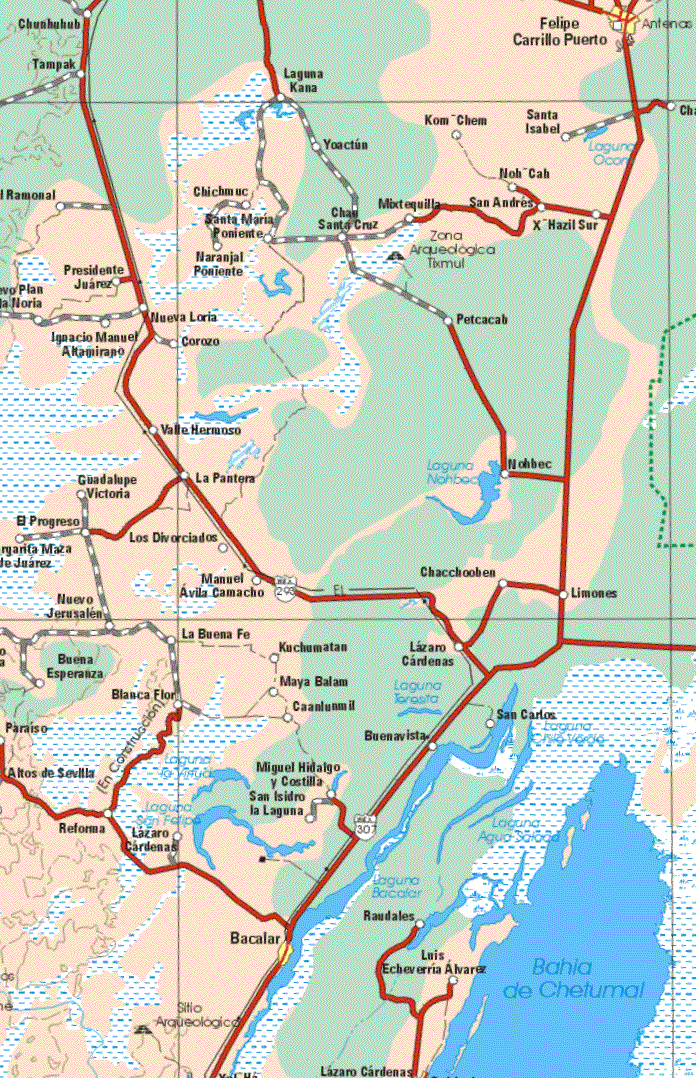 Back to the main Quintana Roo, Mexico map
quintana roo map, quintana roo maps, quintana roo, quintana roo mexico, map of quintana roo, mapa de estado, where is quintana roo?, mapas de quintana roo, mapa de quintana roo, quintana roo mexico, map of quintana roo, maps of quintana roo, mexico quintana roo, quintana roo state, quintana roo tourism, quintana roo vacation, quintana roo vacations, quintana roo travel, quintana roo mexico, quintana roo