Queretaro, Mexico map, N.E. Section 7/16
The map shows the towns (pueblos) of:


Jalpan, Camargo, Higuerillas, San Joaquín.


The map also shows the towns (pueblos) of:

La Joya, Maguey Blanco, El Lindero, Saldiveña, Puerto Colorado, Santa Agueda, Puerto Colorado, Sauz de Guadalupe, Ahuacatlan de Guadalupe, Río Blanco, Rincón de Pitzquintla, Gruta Puente de dios, Cuesta de Huamazontla, Gruta Puente de Dios, Guirambal, Capulines, San Gaspar, Agua Fría, Huazquilico, Carrizal de los Sánchez, Tonatico, Pinal de Amoles, Encinos, El Ranchito, Epazores Grandes, Ganzalito, El Aguacate, La Plazuela, San José el Carrizal, San Lorenzo, Peña Blanca, Bucareli, El Timbre, Rancho Quemado, Azogues, Tierras Coloradas, El Apartadero, La Pastilla, Maravillas, La Tinaja, La Culata, San Cristóbal, Gruta de los Herrera, Loma de Guadalupe, Los Juárez, El Suspiro.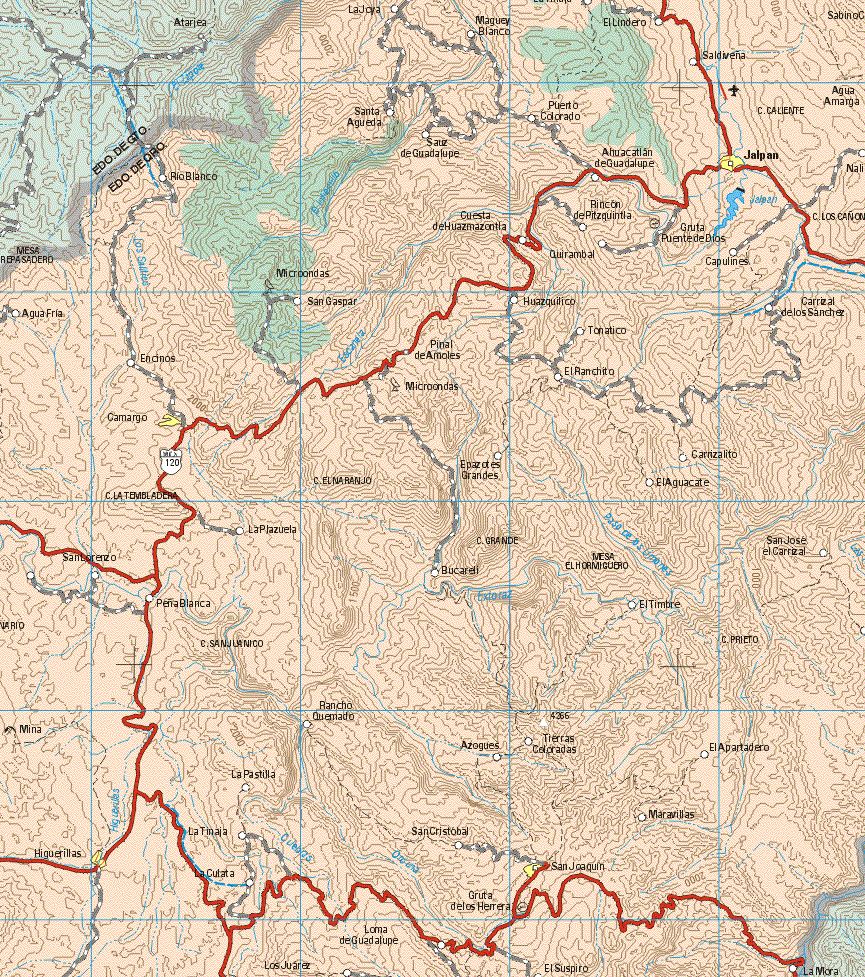 Back to the main Queretaro, Mexico map
queretaro map, queretaro maps, queretaro, queretaro mexico, map of queretaro, mapa de estado, where is queretaro?, mapas de queretaro, mapa de queretaro, queretaro mexico, map of queretaro, maps of queretaro, mexico queretaro, queretaro state, queretaro tourism, queretaro vacation, queretaro vacations, queretaro travel, queretaro mexico, queretaro