Queretaro, Mexico map, S.W. Section 10/16
The map shows the towns (pueblos) of:


San Pablo Toliman, Colon, Ajuchitlan, Ezequiel Montes, La Peñuela, San José de la Laja, Santillán, Frac. Granjas Residenciales de Tequisquiapan, La Laja, Fuentezuelas, El Sauz, Quintafares, Tequisquiapan, Bordo Blanco, Pedro Escobedo La valla, La Ira, El Sauz, San Nicolás, La Llave.


The map also shows the towns (pueblos) of:

Carbonera, El Potrero, Zamorano, El Terrero, San Antonio de la Cal, Puerta de En medio, San Martín Florida, La Pila, El Mexote, Villa Bernal, Peña Colorada, San Martín, El Jaguey, La Zorra, Zituni, Nogales, Palmas, La Magdalena, Santa Rosa de Lima, El Gallo, Urecho, Palo Seco, San Antonio, Villa del Progreso, Naranjas, Galeras, Los Ramírez, El Tejocote, El Ciervo, Viborillas, La Llosa, Purísima de Cubos, El blanco, El Sol, Los Cerritos, La Higuera, Los Alvarez, La Fuente, La Palma, Ignacio Pérez, San Clemente, La Trinidad, Laguán de Lourdes, San German.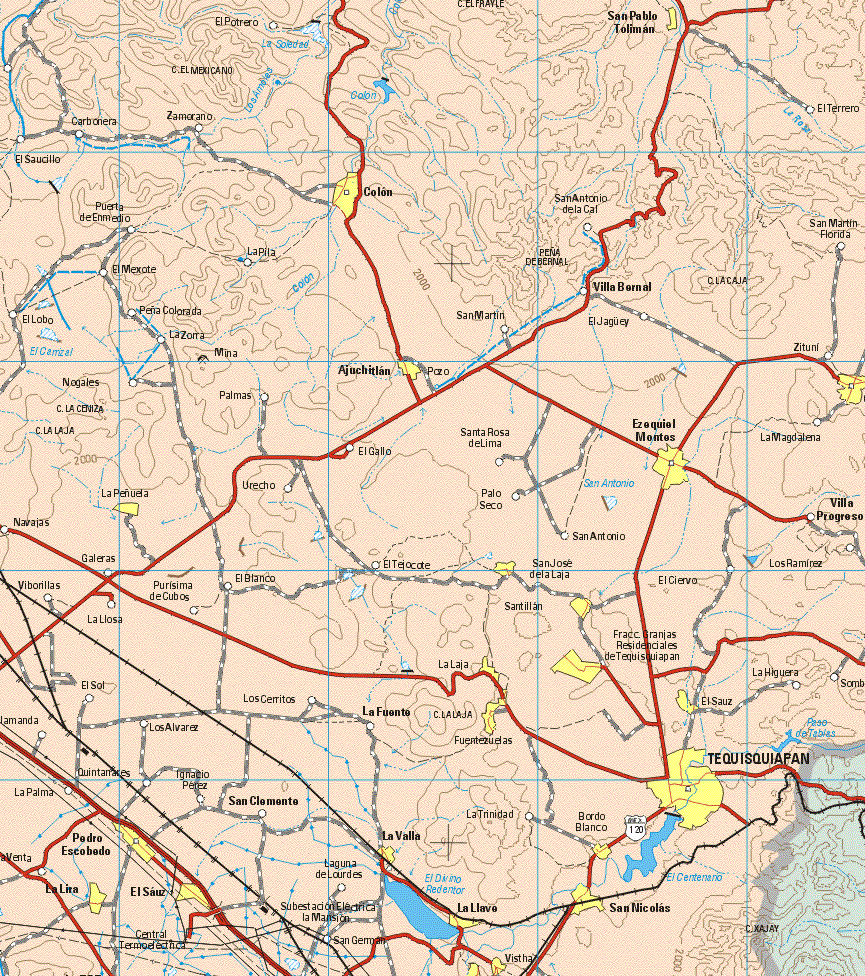 Back to the main Queretaro, Mexico map
queretaro map, queretaro maps, queretaro, queretaro mexico, map of queretaro, mapa de estado, where is queretaro?, mapas de queretaro, mapa de queretaro, queretaro mexico, map of queretaro, maps of queretaro, mexico queretaro, queretaro state, queretaro tourism, queretaro vacation, queretaro vacations, queretaro travel, queretaro mexico, queretaro