Puebla, Mexico map, S.E. Section 11/16
This map shows the major cities (ciudades) of:


Miravalles, Emilios Portes Gil, Guadalupe Victoria, Capiaxtla, Máximo Serdan, San José Chiapa, Francisco I. Madero, Nopalucan de la Granja, Rafael Lara Grajales, San José Ozomba, Cuauhtemoc, Alamos Tepetitlan, Guadalupe Libertad, Santa Maria Ixtiyucan, San Nicolás de Buenos Aires, Santa Inés Varela Luz, Rincón Citlaltepetl, Soltepec, San Salvador el Seco, San Miguel Tecuitlapa, José Maria Morelos, Lázaro Cárdenas, Rafael Avila Camacho, Mazapiltepec de Juárez, San Miguel Zoapan, San Juan Atenco, San Francisco Independencia, Zoapan, San Pedro la Joya, San Sebastián Villanueva, San Lorenzo, Paso Puente Santa Ana, San Miguel Ocotenco, Manuel Avalos, Carmen Serdan, Ahuatepec del Camino, Reyes de Ocampo, Teteles, Benito Juárez, San Cristóbal, Santa Ursula, Coyotepec, San Francisco Cuautlanzingo, Acatzingo, San Pablo de las Tunas, Santiago Tenango, Ciudad Serdan, El Veladero, Tepeaca, Xochiltenango, Actipan de Morelos, San Simón de Bravo, Quecholac, Los Reyes de Juárez, San Salvador Huixcolotla, Cuapiaxtla, Santo Tomas Hueyotiplan, San Mateo Tlalxpan, Atzizintla, Palmanto Tochapan, Zacapla, Santa Rosa, Tuzuapan, San Miguel Xaltepec, Esperanza, Zacacia, San Martín Caltenco, Ometepec, Tecamachalco, Tochtepec, Xochimilco, Santino Alseseca, Palmar Bravo, Cuesta Blanca, La Purisima, Cuancnopalan, San Francisco, Pileta los García, La Laguna, Yehualtepec, San Antonio Soledad, San Baltasar, Santa Clara, Huitziltepec, Dolores Hidalgo, San Gabriel Tetzoyucan, Zozutla, Morelos Cañada, Huitziltepec, Xochitlan, San Andrés Mimiahuapan, Tepazolco, Tlacotepec de Benito Juárez, San Lucas el Viejo, San José Ixtapa, San Marcos Tlacoyalco, San José de Garza, Distrito de Riego N. Treinta, San José Buenavista, Pazoltepec.

The map also shows the towns (pueblos) of:

San Luis Atexcac, Maravillas, San José Morelos, San Juan Bautista, San José la Capilla, Erendira, Libertad Alvaro Obregón, El Paso Nacional, Vista Hermosa, Coatepec, Aljojuca, Miguel Hidalgo, Ranchería Hernández, La Candelaria Portezuelo, Santa Inés Borbolla, San Juan Arcos, San José Guerrero, Canoas Altas, Xochiloma, San Pedro Termamatla, Sana Maria Techachalco, Alvaro Obregón, Texmalaquilla, Alvaro Obregón, Santa Catarina los Reyes, Guadalupe Piletas, San Antonio Tecolco, La Purísima de Hidalgo, Tepetlacaltechco, Puerta Cañada, Boca Nopal, Tezoapan, Cerro Gordo, San Martín Esperilla, San Francisco Esperilla, El Sumidero, San Luis Tehuizotla, San Lucas Palmillas, Santiago Tepetlacolco, Aquiles Serdan, Azumbitla, Chapulco.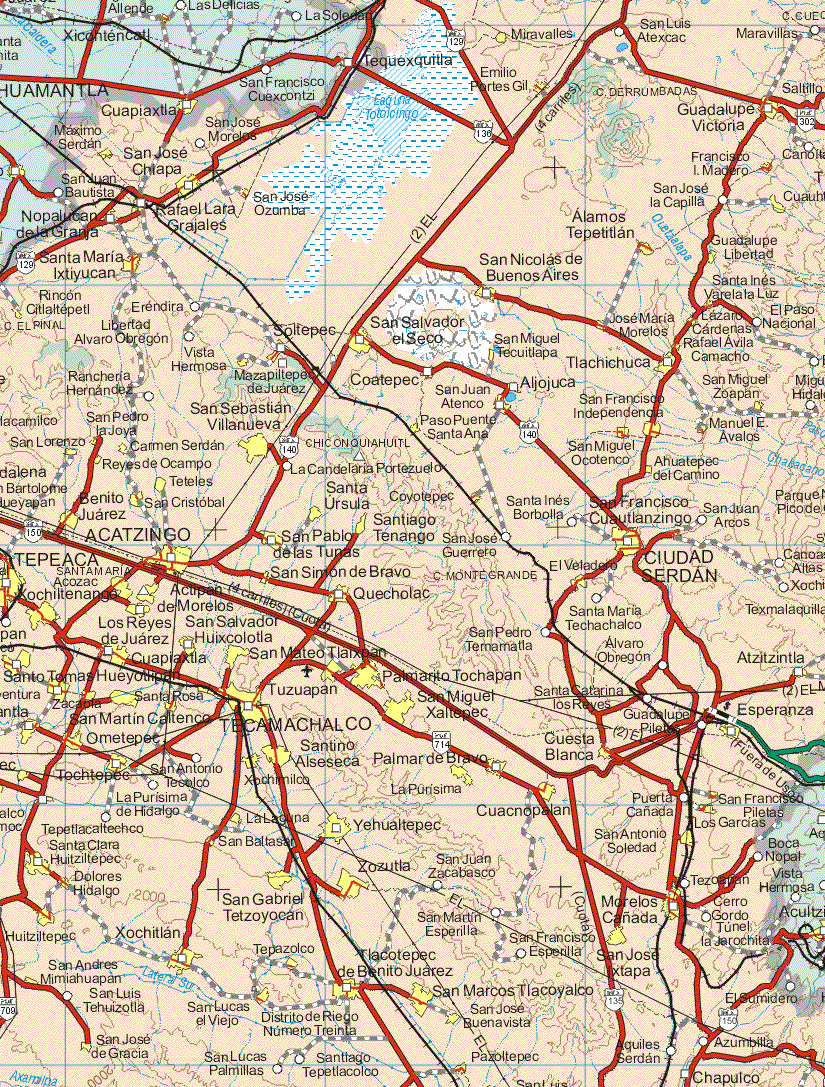 Back to the main Puebla, Mexico map