Puebla, Mexico map, S.W. Section 10/16
This map shows the major cities (ciudades) of:


Tiangasmanalco, San Martín Texmelucan, Santa Maria Moyotzingo, Michac, Huejotzingo, San Andrés Calpan, Vicente Guerrero, San Juan Tepulco, Acajeto, Tepetlaxco de Hidalgo, San Juan Cuatzingo, Cholula, Nealtican, San Andrés Cholula, Nenetzintla, Tlaxco, La Magdalena , San Bartolome Hueyapan, Santa Maria Acuexcomac, Tonantzintla, Heroica Puebla de Zaragoza, Amozac de Mota, San Jerónimo Ocotitla, Chipilo, Santo Tomas Chautla, Concepción Pardiñas, San Francisco Mixtla, Atlixco, Tecali de Herrera, Atoyempan, Huatlatlauca, Izucar de Matamoros.

The map also shows the towns (pueblos) of:

San Matías Tlalancaleca, Tlacotepec, Temascalac, Xalmimilulco, Chiatzingo, Coyoctingo, Francisco Javier Mina, Tlaltenango, Tlaltenango, Domingo Arenas, San Antonio Mihuacan, Ocotlan, Santa Maria Coronango, Cuanala, Almoloya, Concepción Capulac, Santa Maria Xonacatepc, San Francisco Coapan, San Buenaventura, Atzompa, Francisco Tecuanipan, Santa Isabel, Temoxtitla, Santa Clara Ocoyucan, San Baltazar Torija, Santa Cruz Alpyuyeca, San Baltazar Torija, Santa Cruz Ajajalpan, San Luis Ajajalpan, Villa Nolasco, El León, Axocacapan, Malacotepec, Col. Emilio Portes Gil, La Joya, santa Lucia Cosamaloapan, Los Angeles Tetela, San Diego Acapulco, Huilotepec, La Libertad, San José Xacxaayo, Tzintlacoyan, Coatepec, San Bartolo, San Agustín Ahuhuetla, Juárez, Tochimiltzingo, Omampusco, San Nicolás Huajuapan, San Miguel Atlapulco, Santa Maria Zoyotla, Tezoneopan de Bonilla, La Magdalena Tlatlaquitepec, San Juan Atzompa, Molcaxac, San Miguel Ahuhuetlan, Tepeojuma, El Rodeo, La Galarza, San Juan Epatlan, Teopantlan, San Martín Tototepec, Xochiltepec, Santo Domingo Huehuetlan, Tenango, Coatzingo, San Martín Atempan, Santa Maria Cucualan, Santa Catarina Tlatempan, Chigmecatlan, Colonia Victoria, Santa Cruz Tapenaztle, San Nicolás Atlalpan, Copatcotitla.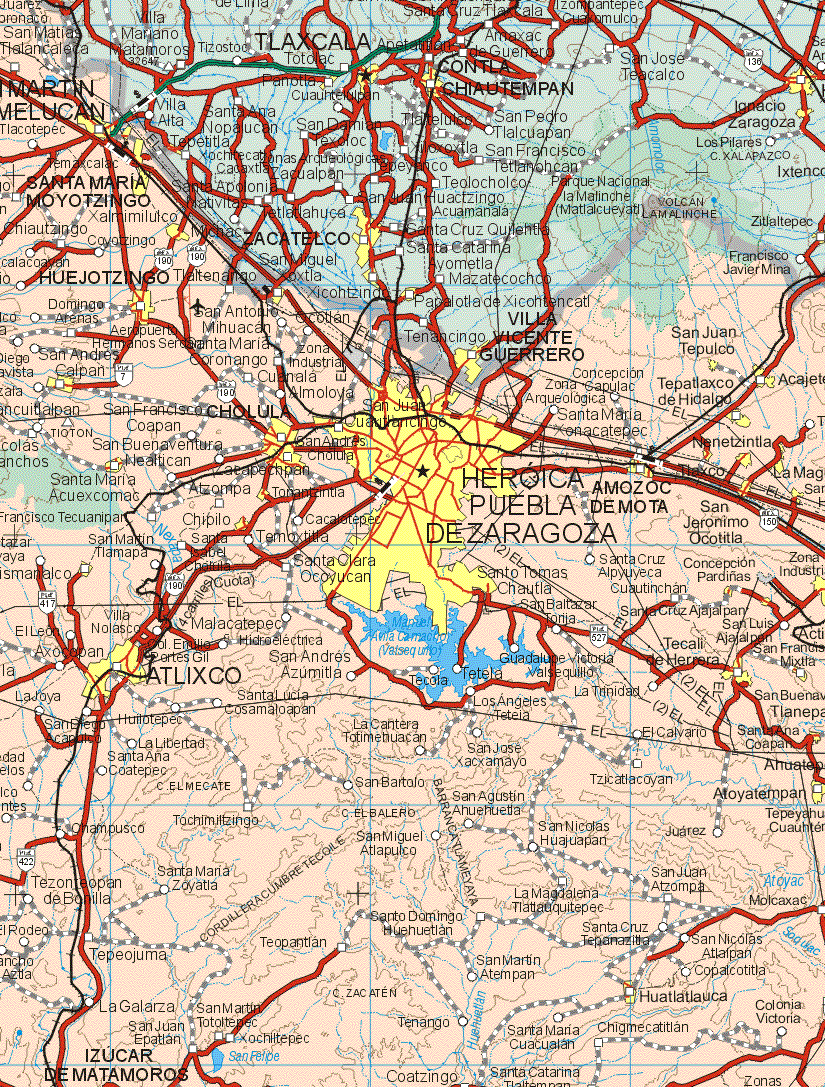 Back to the main Puebla, Mexico map
puebla map, puebla maps, puebla, puebla mexico, map of puebla, mapa de estado, where is puebla?, mapas de puebla, mapa de puebla, puebla mexico, map of puebla, maps of puebla, mexico puebla, puebla state, puebla tourism, puebla vacation, puebla vacations, puebla travel, puebla mexico, puebla