Oaxaca, Mexico map, S.E. Section 11/16
This map shows the major cities (ciudades) of:


Matías Romero, Santiago Ixtepec, Santa Maria Jalapa de Márquez, Asunción Ixtaltepec.
The map also shows the towns (pueblos) of:

San Mateo Cajonas, Mixistlan de la Reforma, Santiago Zacatepec, San Juan Cotzocon, Colonia Revolución, Monte Aguila, Palomares, Santa Maria Tlahutoltepec, Santiago Atitlan, Santa Maria Alotepec, San Juanito, Peso Real de Sarabia, Tamazulapan del Espíritu Santo, Guadalupe, Estancia de Morelos, Santa Ana, San Juan Mazatlan, Boca del Monte, Chuxnaban, Santa Maria Tepantlali, Asunción Cacalotepec, Huisicil, Zarzal, San Miguel Quetzaltepec, San Juan Guichicovi, Cerro Pelón ,Santo Domingo Tepuxtepec, San Pedro Ocotepec, San Lucas Comotlan, Santiago Ixcuintepec, Platanillo, La Maceta, El Ocotal, San Juan Junquilla Mixes, El Chocolate, San Juan del Río, Guadalupe Victoria, Guigovelaga, Santiago Q., Santa Maria Nativas Costlan, San Pablo la Chiriega, Santa Ana del Río, Santa Maria Petapa, Santo Domingo Petapa, San Juan Lachixla, Guevea de Humboldi, El Barrio de la Soledad, Nita conejo, San Luis del Río, San Pedro Quixtoni, Santo Domingo narro, Las Margaritas, Unión Juárez, Soledad Salinas, Santa Ana Tavela, Santiago Lachiguiri, Soledad Salinas, Soledad Agua Blanca, Santo Domingo Chihuitan, Las Animas, Nejapa de Madero, Santa Maria Totolapilla, Santiago Laellaga, San Carlos Yautepec, Chihuiro, San Juan Lajarcia, puerto San Bartolo, San Bartolo Yautepec, Asunción Lachixonase, La Reforma, San Cristóbal, Magdalena, San Carlos Yautepec, Chihuiro, San Juan Lajarcia, Puerto San Bartolo, Santa Maria Mixtequilla, San Pedro Comitancillo, Magdalena Tlacotepec.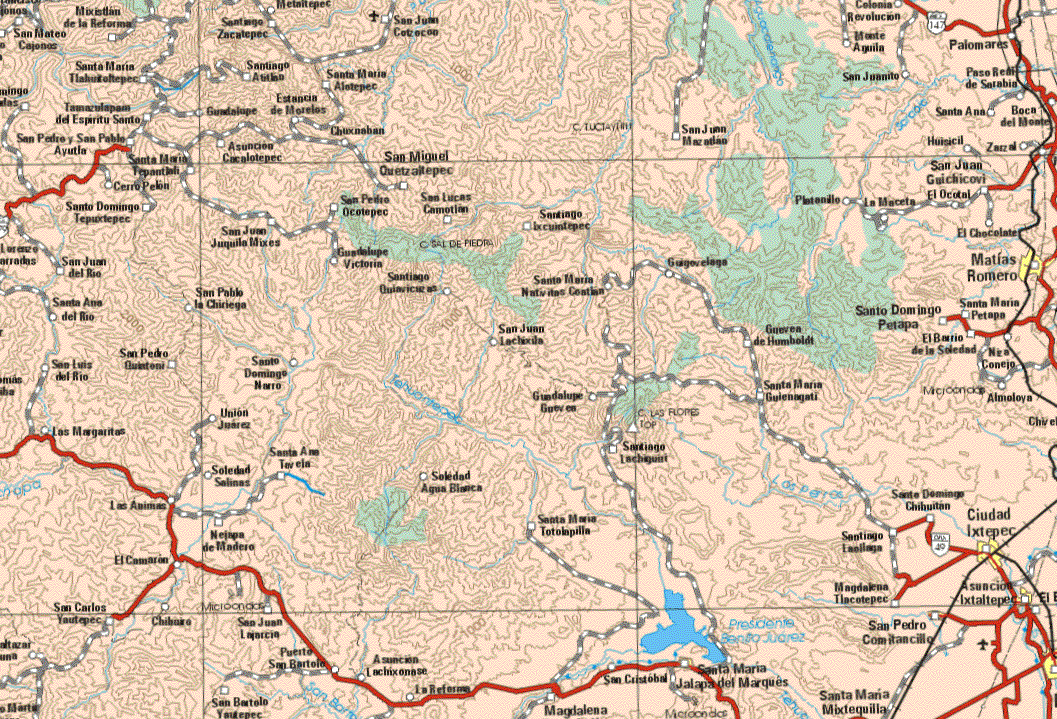 Back to the main Oaxaca, Mexico map
Oaxaca map, Oaxaca maps, Oaxaca, Oaxaca mexico, map of Oaxaca, mapa de estado, where is Oaxaca?, mapas de Oaxaca, mapa de Oaxaca, Oaxaca mexico, map of Oaxaca, maps of Oaxaca, mexico Oaxaca, Oaxaca state, Oaxaca tourism, Oaxaca vacation, Oaxaca vacations, Oaxaca travel, Oaxaca mexico, Oaxaca