Oaxaca, Mexico map, N.E. Section 7/16
The map also shows the towns (pueblos) of:


San José Jiltepec, La Reforma, San Benito Encinal, El Mirador, Berbania, San isidro Naranjal, Arroyo Limón, La Joya, Santa Maria Jacatepec, San Felipe de la Peña, Vega del Sol, San José Mano Márquez, San Agustín, Ayotzintepec, San Antonio las Palmas, San José Río Manso, La Alicia, Río Chiquito, Montenegro, La Libertad, San Lorenzo, Santa Maria Lovani, Lucíosla, Paso del Aguila, Arroyo Fecha Amarilla, El Paraíso, Santiago Comotlan, San Juan Petlapa, San Juan Lalana, San Juan del Río, Nuevo Ocotlan, Francisco Villa, El Porvenir, Nuevo Cerro Mojarra, Emiliano Zapata, Santiago Jalahui, La Trinidad, benito Juárez, La Nueva Raza, San Juan Yatzona, Profesor Julio de la Fuente, los Angeles, Santa Maria Temaxcalapa, Santiago Choapan, San Idelfonso Villa Alta, San Juan Jiltepec, San Juan Jaltepec de Candeyoc, El Paso de las Maravillas, Gral. Felipe Angeles, Santo Domingo Reynaga, San Juan Comaltepec, Santa Maria Yahuire, Santiago Yareo, San José de las Flores, Constitución Mexicana, Villanueva Segundo, San Andrés Yaa, San Bartolo Lachorova, San Juan Ozolotepec, San Melchor Betaza, Totontepec Villa de Morelos, Matamoros, Santa Mara Puxmetacan, Los Fresnos, Gustavo Díaz Ordaz, San Baltasar Yatzachi el Bajo, Villa Hidalgo, Tolosita, Tolosa Estación Donai.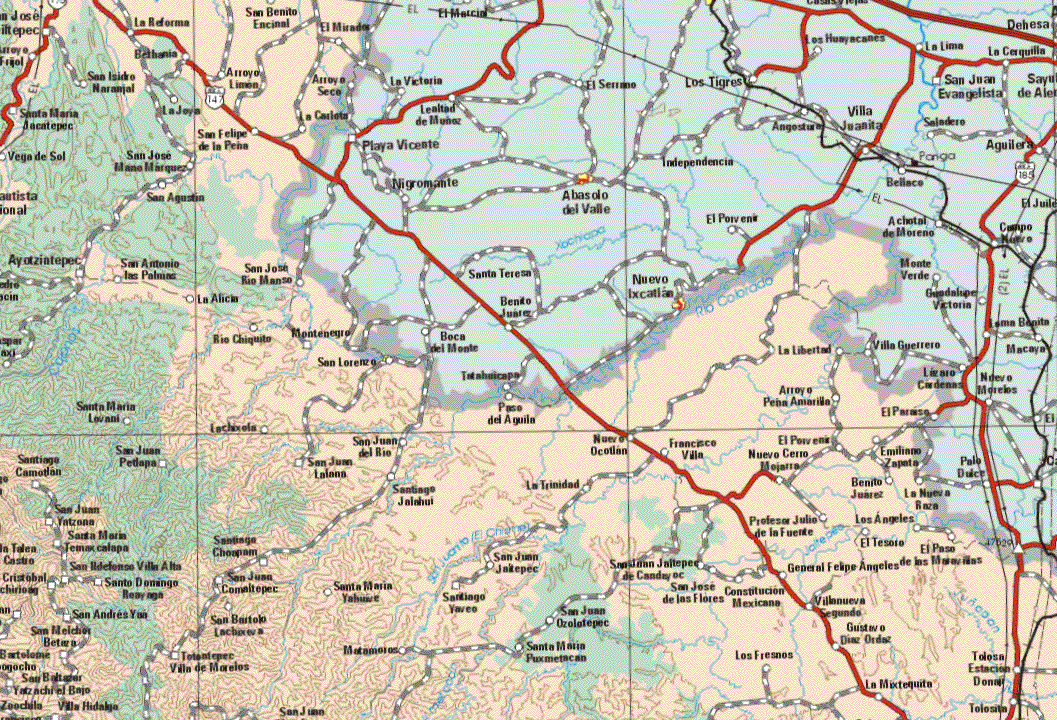 Back to the main Oaxaca, Mexico map
Oaxaca map, Oaxaca maps, Oaxaca, Oaxaca mexico, map of Oaxaca, mapa de estado, where is Oaxaca?, mapas de Oaxaca, mapa de Oaxaca, Oaxaca mexico, map of Oaxaca, maps of Oaxaca, mexico Oaxaca, Oaxaca state, Oaxaca tourism, Oaxaca vacation, Oaxaca vacations, Oaxaca travel, Oaxaca mexico, Oaxaca