Oaxaca, Mexico map, S.W. Section 10/16
This map shows the major cities (ciudades) of:


Oaxaca de Juárez, Chilapan de Guerrero, San Pablo Villa de Mitla, Tlacolula Matamoros, Ciénega de Zimatlan, Santa Gertrudis de Asunción, San Francisco Sola, Cuilapan de Guerrero, San Pablo Huixtepec.
The map also shows the towns (pueblos) of:

Santa Maria Tataltepec, San Juan Tamazula, Ojo de Agua, San Lorenzo Cacatepec, San Felipe Tejalapan, Soledad Etla, San Pablo Etla, Santa Maria, San Andrés Urayapan, Benito Juárez, Cuajimoloyas, Cajonos, Santo Domingo Xagacia, San Juan Teita, Canoa, Santa Maria Peñoles, San Andrés Ixtlalunca, Tlalixtac de Cabrera, Santo Domingo Tenaltepec, Yutanduchi de Guerrero, Santiago Tlayozoltepec, San Pedro Ixtlahuaca, Santa Lucia, Santa Maria del Tule, Teotitlan del Valle, San Pedro Teozacoalco, Tlacoyaltepec, Santa Cruz Xoxocotlan, San Agustín de las juntas, San Antonio de la Cal, Santa Ana del Valle, San Mateo Sindihui, San Miguel Piedras, Santiago Huaxolotepec, San Pablo Cuatro Venados, Aninas Trujano, San Sebastián Abasolo, Villa Díaz Ordaz, Santiago Matatlan, San Baltazar Guelavila, San Lorenzo Alvarado, Santo Tomas de Arriba, Santa Maria Coyotepec, San Juan Girelovia, San Bartolo Coyotepec, San Juan Tetipac, Santa Cruz Papalutla, Magdalena Teltipac, San Lucas Quiavini, San Bartolome Quiafana, San Martín Tilcajte, Santo Tomas Jalieza, San Juan Chisteca, San Dionicio Ocotepec, San Antonio Castillo Velazco, San Miguel Tilquiapan, San Baltazar Chichicapan, Santa Catarina Minas, San Dionisio Ocotlan, Santa Lucia Ocotlan, San Jerónimo Taviche, Yaxe, San José del Progreso, San Pedro Taviche, San Pedro Totolape, San Miguel Ejutla, Heroica Ciudad de Ejutla de Crespo, Andrés Niño, San Juan Lechigilla, Santa Maria Zequitlan, Coatecas Altas, Río Seco, San Esteban Amatlan, Guixe, La Soledad, Bramaderos, Santa Cruz Monjas, La Pila, San Luis Amatlan, Lachivhigoza, San José L., San Pedro Monte, San Baltazar Laguna, Trinidad Zacachila, Quiane, Zegache, Santa Inés Yatzeche, Santiago Apóstol, Ocotlan de Morelos, Asunción Ocotlan, San Pedro Apóstol, San Pedro Mártir, Magdalena Ocotlan, San Martín de los Cansecos, La Fe, San Martín Lachila, La Compañía, Taniche, San Agustín Amatengo, La Noria, Yogana, San Nicolás, San Simón Almohadas, Rancho Viejo, San Vicente, San Mateo Sindihui, San Miguel Piedras Santiago Huaxolotipac, San Raymundo Jalpan, San Isidro el Potrero, San Antonio Huitepec, Soledad Peras, Villa de Zaachila, San Francisco Cahuacusa, Zapotitlan del Río, Santa Inés del Monte, Magdalena Mixtepec, Zimatlan de Alvarez, San Pedro Totonuachapam,San Antonio del Alto, San Bernardo Mixtepec, Santa Cruz Mixtepec, San Miguel Mixtepec, Recibimiento de Cuauhtemoc, Santa Maria Lachixio Santa Ana Tlapacoy, Santiago Textitlan, San Vicente Lechixio, Ayogrezco de Aldama, San Sebastián de las Grutas, Santa Maria Zuñiga, Santo Domingo Teojomulco, El Rincón, San Lorenzo Texmelucan, San Andrés Zabache, Santa Maria Sola, San Jacinto Tlacotepec, El Suchil San Idelfonso Sola, Santiago Minas, San Miguel Tecomitlan.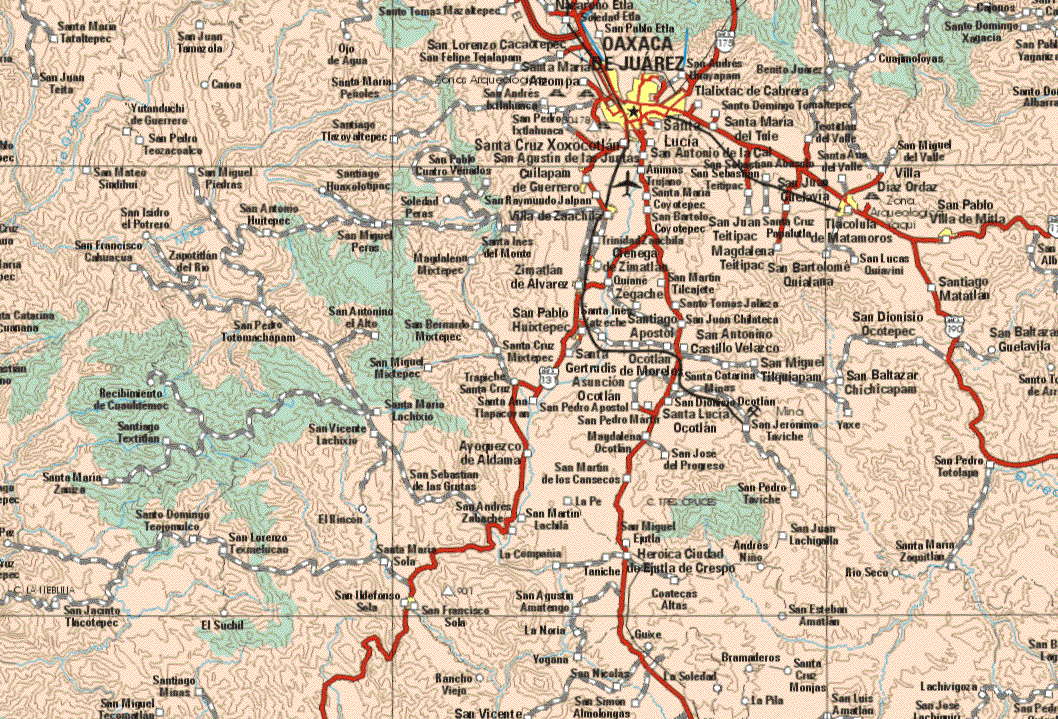 Back to the main Oaxaca, Mexico map
Oaxaca map, Oaxaca maps, Oaxaca, Oaxaca mexico, map of Oaxaca, mapa de estado, where is Oaxaca?, mapas de Oaxaca, mapa de Oaxaca, Oaxaca mexico, map of Oaxaca, maps of Oaxaca, mexico Oaxaca, Oaxaca state, Oaxaca tourism, Oaxaca vacation, Oaxaca vacations, Oaxaca travel, Oaxaca mexico, Oaxaca