Oaxaca, Mexico map, N.W. Section 6/16
This map shows the major cities (ciudades) of:


Antonio Nochixtlan.
The map also shows the towns (pueblos) of:

San Miguel Astatla, El Rodeo, Cuyamecalce Villa de Zaragoza, Santa Maria Tlalictac, San Andrés Teotilapan, San Miguel Santa Flor, Santa Maria Tecomavaca, La Unión, Santiago Quilotepec, Peña Blanca, San Francisco Chapulapa, San Felipe Usila, Paso Escalera, San Rafael Agua de Pescadito, Concepción Buenavista, San Lorenzo Papalo, Tepelmeme Villa de Morelos, Santa Maria Ixcatlan, Santiago Ihuatlan Plumas, Concepción Papalo, Tecolmaltianguisco, Armadillo Chico, San Pedro Sochimpam, San Juan Bautista Tlacoatzintepec, San Mateo Tlapiltepec, Santiago Tepetlapa, San Miguel Tequixtepec, San pedro Jocotipac, San Juan Bautista Cuicatlan, Valerio Tijulario, Santo Reyes Papalo, San Juan Zapotitlan, Arroyo de Banco, Cerro Marino, San Juan Bautista, San Miguel Tutancingo, San Cristóbal Suchistlahuaca, San Miguel Humutla, Santa Maria Tecaxtitlan, San Juan Tepeuxila, San Juan Bautista Coixtlahuaca, Santa Maria Nativas, San Pedro Jalpereltongo, San Sebastián Tlacoluala, Santo Domingo Temaltepec, San Miguel Chicabuena, Santiago Apeala, Santa Maria Apaxco, Santiago Dominguillo, Santo Domingo Tenaltepec, San Miguel Chicahua, Santiago Apoala, San Bartolo de Altepec, Tierra Colorada, Quiotepec, San pedro Yolox, San Juan Tonaltepc, Santiago Comaltepec, Santa Maria Chachuapan, Santiago Amatlan, Santiago Nacaltepec, San Juan Baustista Atatlahuaca, San Pablo Macultianguis, Santo Domingo Yanhuitlan, San Juan Yucuita, San Andrés Sinaxtla, Santiago Tila, San pedro Topiltepec, San Juan Ixtepec, Santiago Huauclilla, San Juan Bautista Jayacatlan, Abejones, San Miguel Abapaza, San Juan Atepec, San pedro Yaneri, San Juan Yace, Santiago Nejapitla, Santo Domingo Tlayapan, Chindua, San Miguel Tecomatlan, San Mateo Etlatongo, Santa Ana Yareni, San Juan Evangelista Apalca, Tunetze de Zaragoza, San Francisco Nucahe, Yudocono, San Francisco Jaltepetongo, Magdalena Zalastlan, San Jerónimo Sosola, Teococulco de Marcos Pérez, Santa Maria Jaltianguis, San Miguel Yotao, San Pedro Tida, San Pedro Coxcaltepec, Cantaros, Magdalena Jaltepec, San Juan Diuxi, San Bartolomé Yucuahe, El Venado, San Luis de Zaragoza, San Andrés Nuxiño, Santo Domingo Nuxaa, Santiago Tenango, San Francisco Telixtlahuaca, San Pablo Huitzo, Santiago Suchilquitongo, San Andrés Zautla, Magdalena Apasco, Reyes Etla, San Juan del Estando, San Juan Bautista Guelache, Villa de Etla, San Agustín Etla, San Miguel del Río, Nuevo Zonquimpan, Santa Catarina Ixtepeja, Nueva Zoquiapan, San Juan Chiconezuchil, Santa Catarina Lachatao, Cotulpan de Méndez, Natividad, Santiago, Xeacun, Santa Maria Yaesia, Santa Maria Yalius, San Andrés Slaga, Santiago Laxopa.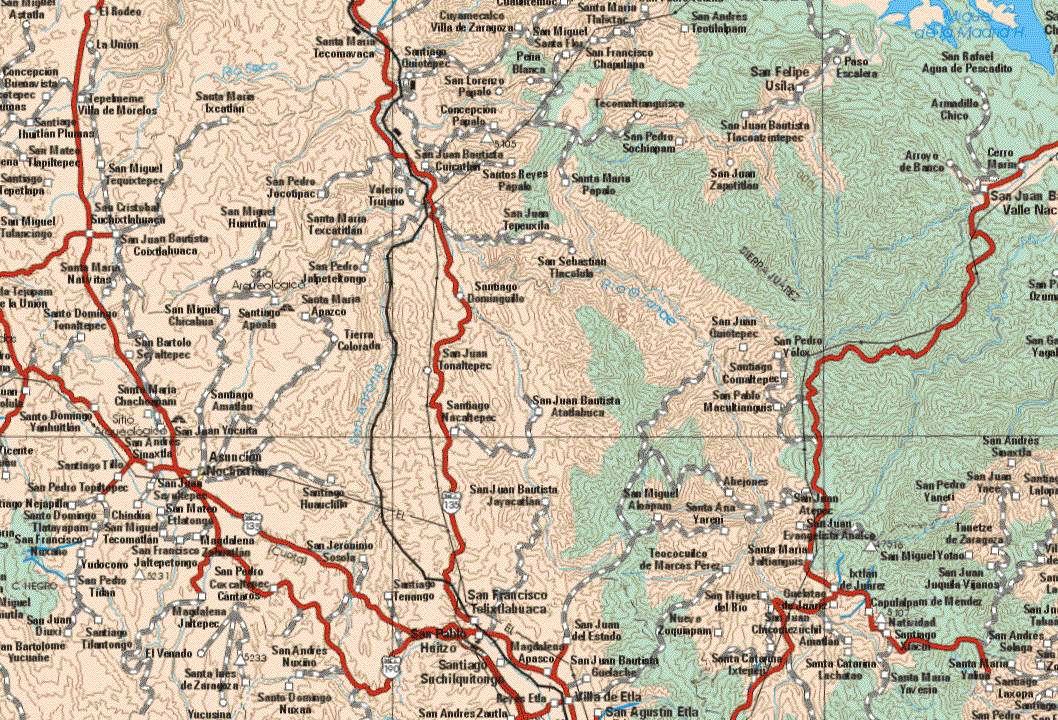 Back to the main Oaxaca, Mexico map
Oaxaca map, Oaxaca maps, Oaxaca, Oaxaca mexico, map of Oaxaca, mapa de estado, where is Oaxaca?, mapas de Oaxaca, mapa de Oaxaca, Oaxaca mexico, map of Oaxaca, maps of Oaxaca, mexico Oaxaca, Oaxaca state, Oaxaca tourism, Oaxaca vacation, Oaxaca vacations, Oaxaca travel, Oaxaca mexico, Oaxaca