Oaxaca, Mexico map, S.W. Section 13/16
This map shows the major cities (ciudades) of:


Santiago Pinotepa Nacional, Santiago Jamiltepec.
The map also shows the towns (pueblos) of:

Punta Maldonado, Santiago Tapextla, Llano Grande, Santo Domingo Armenta, El Ciruelo, Corralero, El Carrizo, Guadalupe Victoria, La Playa banco de Oro, La Noria y Mimindaca, Collantes, San Andrés Huaxpaltepec, Santa Maria Hirazolotitlan, Piedra Blanca, Santa Maria Cochimetepec, José Maria Morelos, Santa Catarina Mechoapan, Ocodon de Juárez, Santiago Tetepec, Tetaltepec de Valdez, Santiago Tetepec, La Cumbre, Paso de la Reforma, Santa Cruz Titultepec, Charco N., Santa Ana Tututepec, Villa de Tututepec de Melchor Ocampo, San José del Progreso, La Pastoria, El Azufre, Zapotalillo.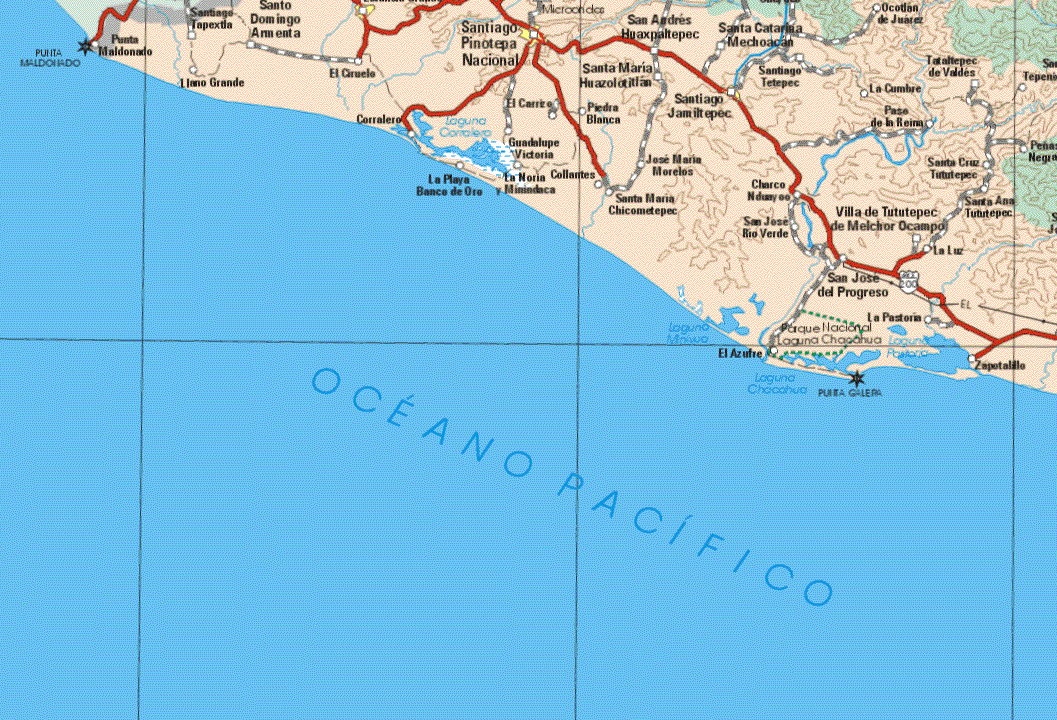 Back to the main Oaxaca, Mexico map
Oaxaca map, Oaxaca maps, Oaxaca, Oaxaca mexico, map of Oaxaca, mapa de estado, where is Oaxaca?, mapas de Oaxaca, mapa de Oaxaca, Oaxaca mexico, map of Oaxaca, maps of Oaxaca, mexico Oaxaca, Oaxaca state, Oaxaca tourism, Oaxaca vacation, Oaxaca vacations, Oaxaca travel, Oaxaca mexico, Oaxaca