Nuevo Leon, Mexico map, N.E. Section 6/16
This map shows the major cities (ciudades) of:


Ciudad Sabinas Hidalgo, Hidalgo, Salinas Victoria, Frac. Campestre la Fortuna, Ciénega de Flores, Carmen, Colonia Agropecuaria Gral. Emiliano Zapata, Villas Campestres, Santa Rosa, Ciudad Gral. Escobedo, Ciudad Apodaca, San Nicolás de los Garza, Guadalupe, Monterrey, Cadereyta Jiménez, Ciudad Benito Juárez.
The map also shows the towns (pueblos) of:

La Enramada, La Peinada, Ciudad de Villaldama, Garza Ayala, Los Colorados de Abajo, Las Comitas, Aldama, Noria Nueva, Colonia Larraldeña, Los Colorados de Arriba, Fresnillo, Monte Grande, El Potrero, El Nogal, Sombreretillo, Ojo de Agua, Uña de Gato, La Cuesta, Rancho Nuevo, Mamulique, Los Garza, El Merendero, los Villareales, Morales, El Salitre, Higueras, General Zauzua, La Peña, Marín, Doctor González, Agua Fría, Zacatecas, Pesquería, Hacienda Guadalupe, Los Treviño, Los Girasoles, Santa Maria la Floreña, Hacienda Santa Ana, Fraccionamiento Valle Alto, Ejido San Lorenzo, Ejido Palmitos, Soledad Herrera, San Juan.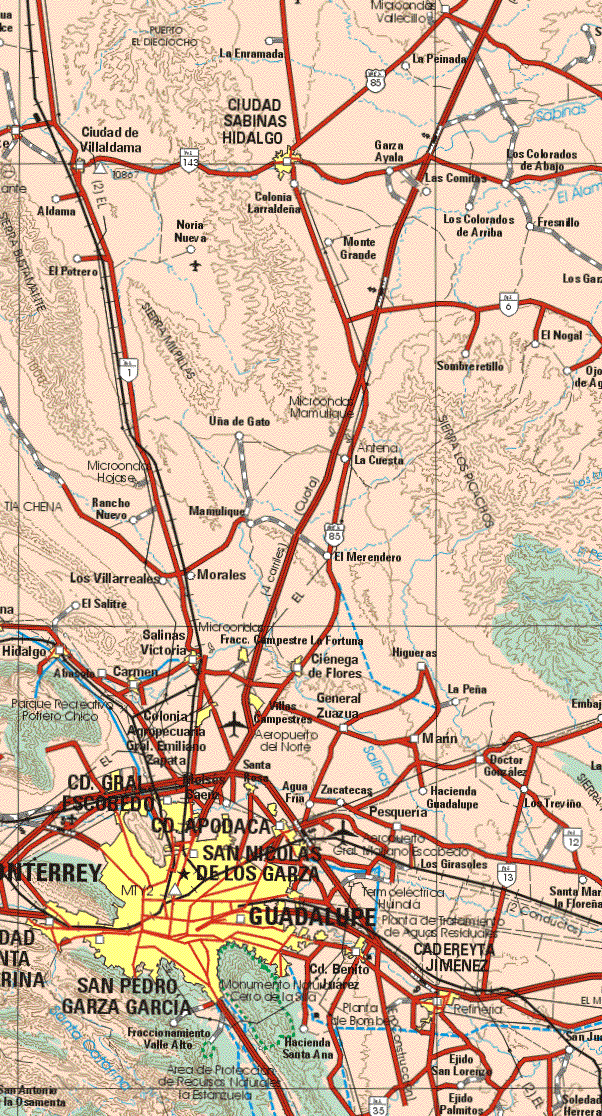 Back to the main Nuevo Leon, Mexico map
Nuevo Leon map, Nuevo Leon maps, Nuevo Leon, Nuevo Leon mexico, map of Nuevo Leon, mapa de estado, where is Nuevo Leon?, mapas de Nuevo Leon, mapa de Nuevo Leon, Nuevo Leon mexico, map of Nuevo Leon, maps of Nuevo Leon, mexico Nuevo Leon, Nuevo Leon state, Nuevo Leon tourism, Nuevo Leon vacation, Nuevo Leon vacations, Nuevo Leon travel, Nuevo Leon mexico, Nuevo Leon