Mexico State, Mexico map, S.W. Section 10/16

This map shows the major cities (ciudades) of:


San Francisco Tlalcitalcalpan, San Luis Mextepec, San Miguel Ziancantepec, Toluca de Lerdo, Cacalomacan, San Juan de las Huertas, Tlatelulco, San Juan Tilapa, Santiago Tlacotepec, Calimaya de Diaz Gonzalez, Villa Guerrero, Coatepec de Harinas.


The map also shows the towns (pueblos) of:

Turcio 1ra Seccion, San Nicolas Amealco, San Mateo Tlalchichilpan, San Sebastian el Grande, el Potrero, San Mateo, Sierra Morelos, San Simon de la Laguna, Santa Maria del Monte, San Antonio Acahualco, San Mateo Oxtotitlan, San Miguel Xoltepec, Rincon de Guadalupe, Santa Cruz Cuautenco, San Pedro Tejalpa, San Francisco Mihualtepec, Amanalco de Becerra, San Pedro Tejalpa, San Jeronimo, Buenavista, Ojo de Agua, Santa Maria Nativas, Acatitlan, San Simon el Alto, San Francisco Oxtaltipan, La Puerta del Monte, San Marcos de la Cruz, Meson Viejo, San Ramon, La Peñuela, La Laguna, San Miguel Oxtoltilpan, Zaragoza de Guadalupe, La Laguna, Potrero de San Jose, La Comunidad, San Francisco Putla, Estancia de Tequexquipan, Santa Cruz Pueblo Nuevo, La Laguna, San Pedro Tlanixco, Temascaltepec de Gonzalez, Tlanixco, Los Timbres, San Andres de los Gama, La Guacamaya, Las Lagrimas, Tlanixco, Real de Arriba, Mina de Agua, San Simon de Guerrero, Cieneguillas de Labra, Los Ranchos de San Jose, La Labor, San Diego, Huyanalco, San Bartolome, San Jose, San Gabriel Cuentla, Potrero de la Sierra, Zacango, Santiago Oxtotitlan, Rancho Viejo Cuentla, San Diego Cuentla, Cruz de Piedra, Tequimilpa, La Lona, Texcaltitlan, San Jose del Progreso, Tepalcatepec, Yultepec, Chiltepec, El Carmen, Huayatengo, La Labor de Zaragoza, Pantoja, Las Vueltas, Plan de San Francisco, Las Finas, San Miguel de Laderas, Pantoja, Pachuquitla, Aguacatitlan.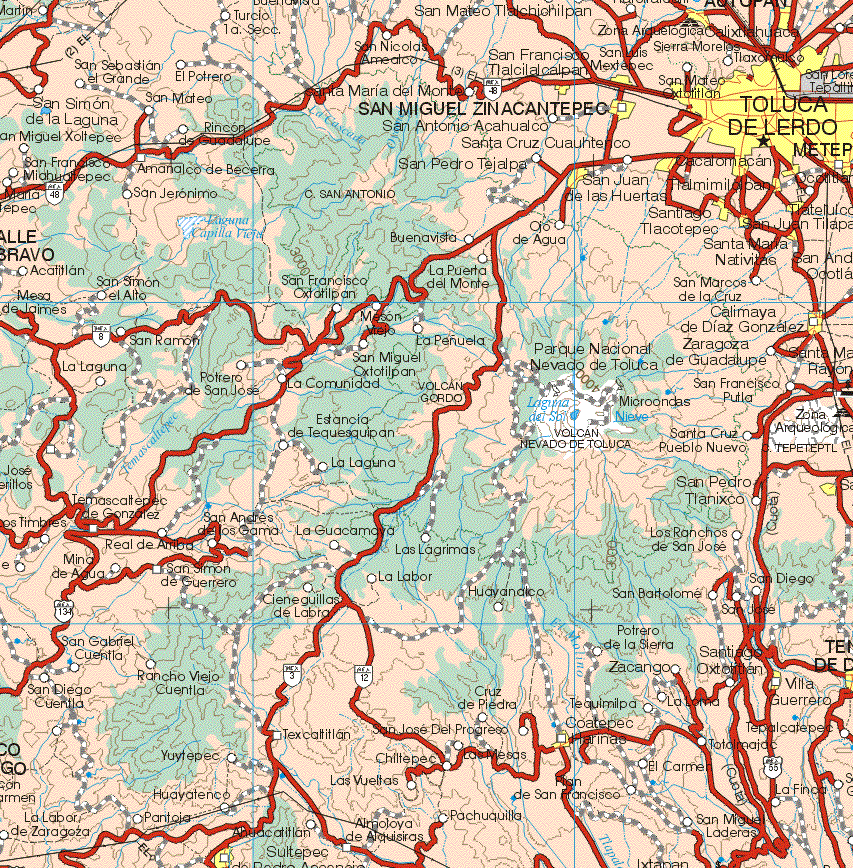 Back to the main Mexico, Mexico map
mexico map, mexico maps, mexico, mexico mexico, map of mexico, mapa de estado, where is mexico?, mapas de mexico, mapa de mexico, mexico mexico, map of mexico, maps of mexico, mexico mexico, mexico state, mexico tourism, mexico vacation, mexico vacations, mexico travel, mexico mexico, mexico