Mexico State, Mexico map, S.W. Section 13/16

This map shows the major cities (ciudades) of:


San Pedro Limón.


The map also shows the towns (pueblos) of:

La Ceiba, La Mesa, Paso de Guayabal, Monte de Dios, Rincón de Guayabal, Corral de Piedra, Bejucos, Salitre Palmarillas, San Simón, Palmar Chico, El Rancho, Santiago, Los Pinzones Matuz, San Francisco de los Pinzones, Cerro del Campo, Gruta, El Zapote, Cincuenta arrobas, Huisitla, San Francisco de Asís, Tlataya, San Juan Teliflan, Santa Maria, Tlacocuspan, Palmar Grande, Cirian Grande, Santa Maria, corral de Vigas, Mayaltepec, Santa Ana Zicatecoyan, Corral de Vigas, Pie del Cerro, Palma Torcida, Salitrillo, Juntas del Río Limón, El Monton, Las Juntas, Coagulotes, El Gavilán, El Zopilote, El Naranjo, El Zapote, Azubil, Ranchos Nuevos, Vuelta del Río, Limón Terrero, San Antonio del Rosario, Nuevo Copaltepec.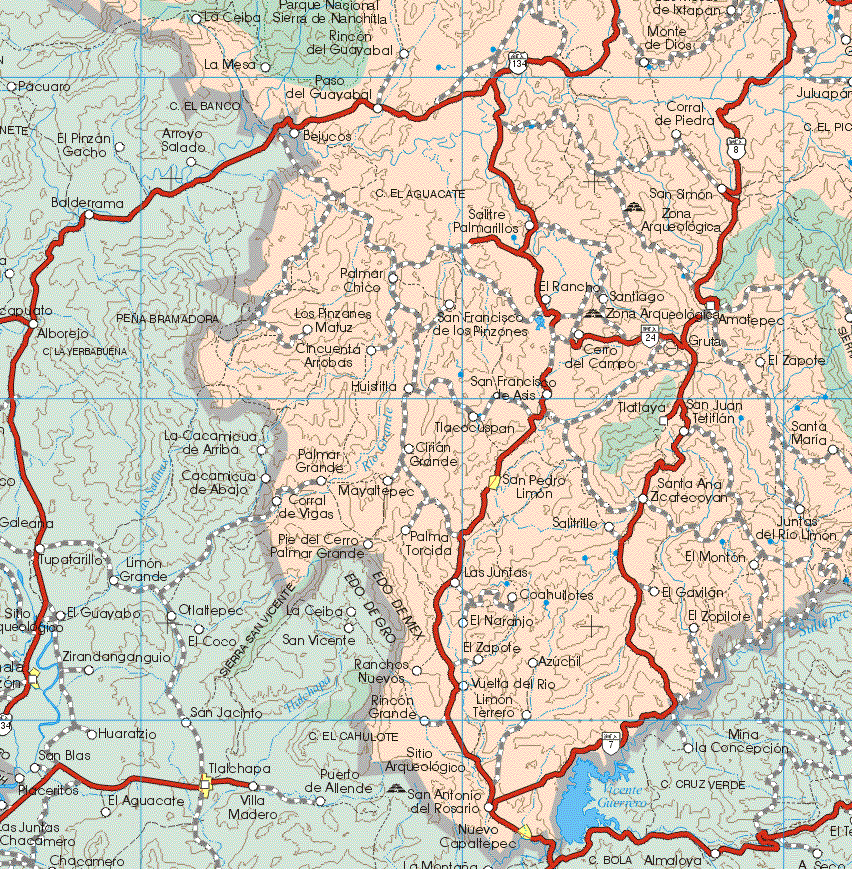 Back to the main Mexico, Mexico map
mexico map, mexico maps, mexico, mexico mexico, map of mexico, mapa de estado, where is mexico?, mapas de mexico, mapa de mexico, mexico mexico, map of mexico, maps of mexico, mexico mexico, mexico state, mexico tourism, mexico vacation, mexico vacations, mexico travel, mexico mexico, mexico