Hidalgo, Mexico map, N.E. Section 7/16

This map shows the major cities (ciudades) of:

Zacualtipan.


The map also shows the towns (pueblos) of:

Otongo, San Cristóbal, Pilcuatla, San Pedro Huazalingo, Santa Lucia, Mecatlan, Yahualica, Tlateoingo, Tecueyaca, Chichayotla, Tochintlan, Papatlatla, Tetla, Acatepec, Tochinflan, Rancho Nuevo, Xochil, Toxtlamantla, Mazahuacan, Chiachitla, Ahuacatlan, Calnali, Coamitla, Santa Teresa, Xoxolpa, Chalma, Pahuantita, Tenango, Tenango, Yatipan, Tuzancoac, Permutilla, Lolotla, Texcaco, El Calvario, Coatencalco, Atecoxco, Tlacolula, Atezca, Molango, Xochicoatlan, Papoxtla, Tlaxcoya, Tonchitlan, La Morilla, Moloetlan, Pemuxco, Malita, Tlanguistengo, Santa Mónica, Tlaxco, Soyotla, Coatitla, Jalapa, La Mesa Grande, Sietla, Tlahuelompa, santo Domingo, Zahuastipan, Carpinteros, Tuzanapa, El Pedregal de Zaragoza, Tepatetipa, Tolapa, Metzititlan, Tehuitzila, Zoquizoquipan, Ototla, La Mojonera, Papaxtla, Mextitlan, San bernardo, San Juan Metzitlan, San Bernardo, Carrizal Chico, Yerbabuena, Atecoxco, Milpillas, Tres Cruces.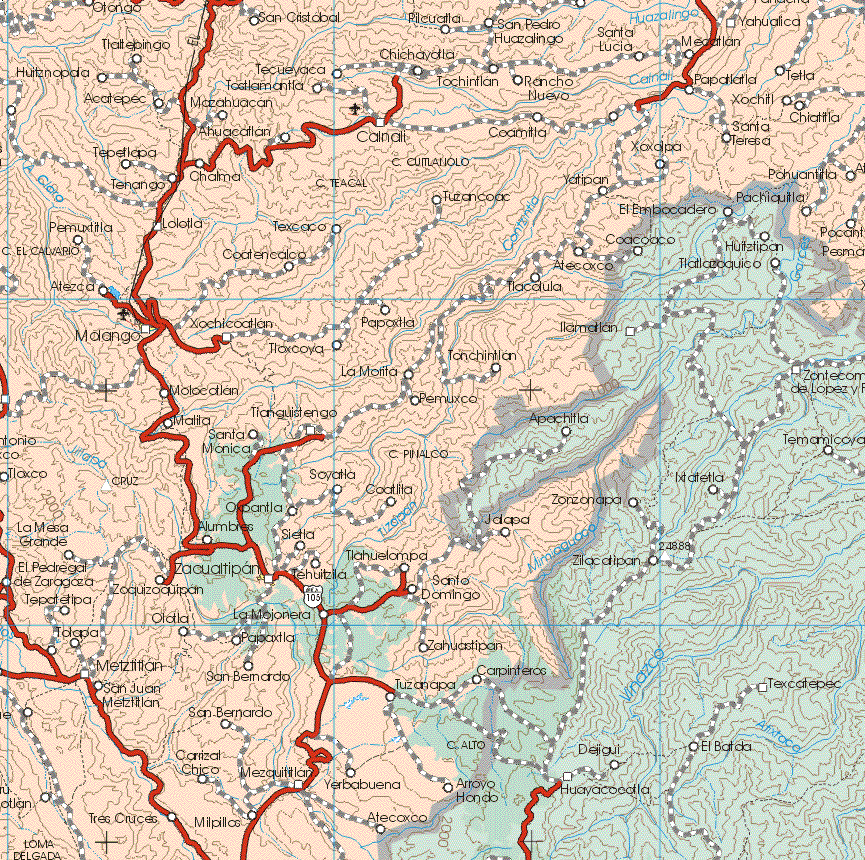 Back to the main Hidalgo, Mexico map
San Joaquín, Tecozautla, Bajhi, El Palmar, Larios Verdosas, Garabato, Zimapan, Plutarco Elías Calles, Lázaro Cárdenas, El Cuarto, El Aguacatito, Paso del Arenal, Vicente Guerrero, San pedro, El Epazote, Noxtey, Manguani, Banzha, Uxdejhe, Yexho, Geotérmica, El paso, San José del Desierto, Las Rosas, Gancho, Quitandeje, Huisache, Catimacam, Danghu.