Guerrero, Mexico map, N.E. Section 7/16

This map shows the major cities (ciudades) of:


Coacoyula de Alvarez, Huitziltepec, Apango, Chilpancingo de los Bravos.


The map also shows the towns (pueblos) of:

Cocula, Alvaro Obregón, Tlanipatlan, Oxtotitlan, Apetlanca, Apipilulco, Santa Teresa, Santa Cruz, Lagunillas, Cacalunanche, Paso Morelos, Tizentlan, Mayamalan, Apaxtla, de Castrejon, Cuetzala del Progreso, Tecuecotitlan, Saban Grande, Xechitepec, Colonia Olea, Tonalapa del Sur, Tetelilla, Tequincuilco, Atenango del Río, Tonalap del Sur, Tlaxala, Maxela, Tuliman, Cacalotepec, Zacapostepec, Nueve Balsas, Texocotla, Xalitla, Los Amates, San Marcos, Acatlan del Río, Azcata, Ameyaltepec, San Agustín Oapan, San Marcos, Acatlan del Río, Mezcala, San Francisco Ozomatlan, Mazapa, Mexcala, San Juan Tetelzingo, Amatitlan, San Juan las Joyas, Ohichiltepec, Zompaotle, Tlacotepec, Xochipala, Axaxaciralco, Tlalcilac, San Juan de las Joyas, Chichiltepec, Contepec del Ocote, El Mirabal, Puerto Nicolás Bravo, Corral de Piedra, Yextla, Izotepec, Chichihualco, Las Joyitas, El Platanar, Zumpango del Río, Atliaca, Tixtla de Guerrero, Zotoltitlan, Zitlala, Acatlan, Tepehuixco, Santa Cruz, Chilapa de Alvarez, santa Catarina.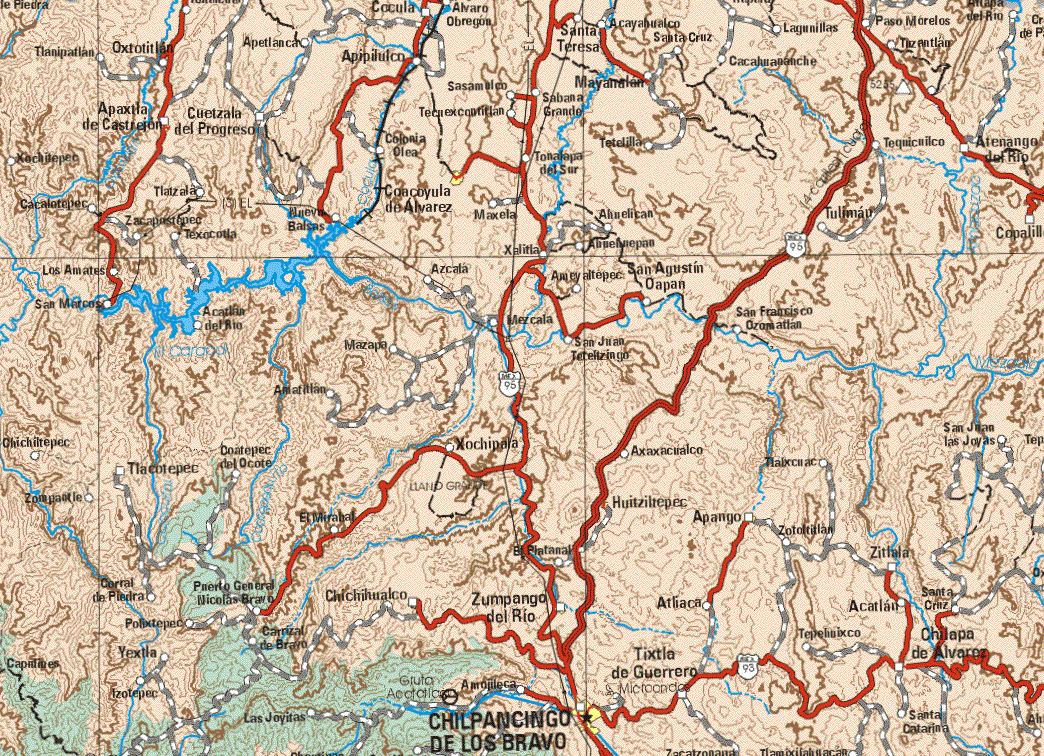 Back to the main Guerrero, Mexico map
guerrero map, guerrero maps, guerrero, guerrero mexico, map of guerrero, mapa de estado, where is guerrero?, mapas de guerrero, mapa de guerrero, guerrero mexico, map of guerrero, maps of guerrero, guerrero mexico, guerrero state, guerrero tourism, guerrero vacation, guerrero vacations, guerrero travel, guerrero mexico, guerrero