Guerrero, Mexico map, S.W. Section 10/16

This map shows the major cities (ciudades) of:


San Luis de las Lomas, Tecpan de Galiana, San Jerónimo de Juárez.


The map also shows the towns (pueblos) of:

El Parotal, La Calera de Santa Lucia, Santa Rosa, La Ciénega, Coyaquilla Sur, Paparioa, Puerto Escondido, Los Camarones, Pedregal, Santa Lucia, San Luis, San pedro, Las Mesas, Guayabillo, Ojo de Agua, Nuxco, El Pital, La Martha, La Reforma Agraria, Potrero Grande, Arroyo Frió, Puerto de la Vela, Piedras Grandes, Herrera, Pie de la Cuesta, Santo domingo, Puerto del Gallo, El Edén, El paraíso, La Reforma Agraria, Tenexpa, Playa Boca Chica, La Hacienda, Santa Maria, San Juan de las Flores, Agua Fría, Corral Falso, Los Órganos, El Paraíso, El Camarón, San Vicente de Jesús, San Francisco de la Flor, Las Trincheras, El Quemado, Cacalutla, Zacilatpan, Las Lomitas, El Guayabo, El Zapote, Paraíso Escondido, Penjamo, Playa del carrizal.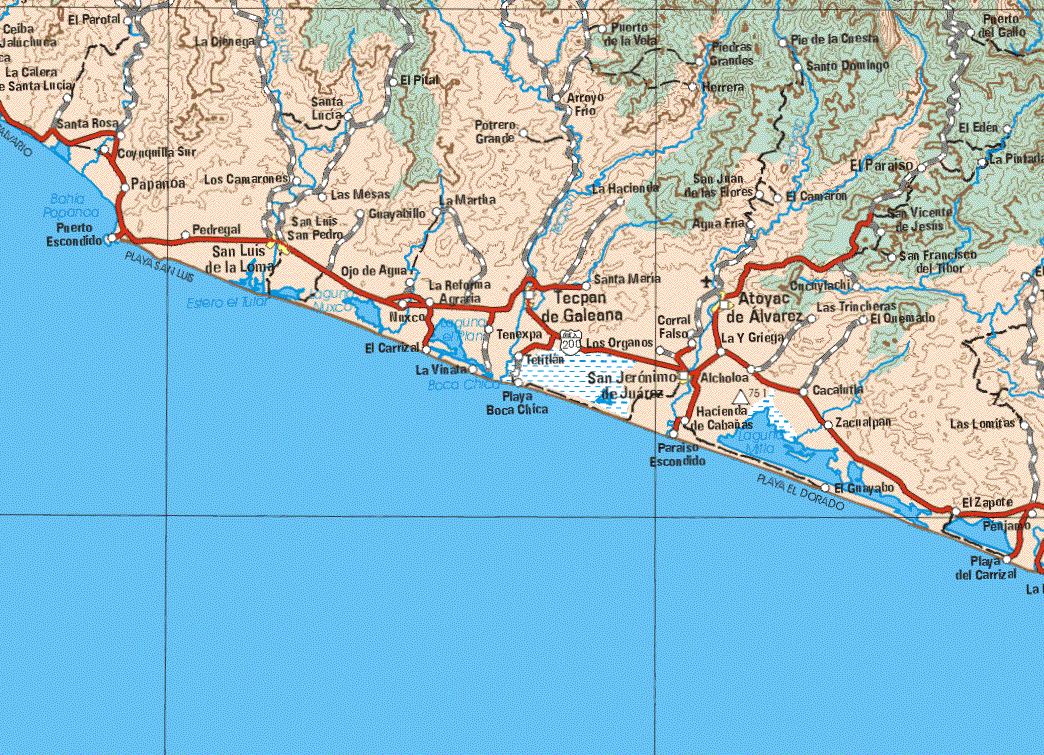 Back to the main Guerrero, Mexico map
guerrero map, guerrero maps, guerrero, guerrero mexico, map of guerrero, mapa de estado, where is guerrero?, mapas de guerrero, mapa de guerrero, guerrero mexico, map of guerrero, maps of guerrero, guerrero mexico, guerrero state, guerrero tourism, guerrero vacation, guerrero vacations, guerrero travel, guerrero mexico, guerrero