Durango, Mexico map, S.E. Section 11/16

This map shows the major cities (ciudades) of:


Ignacio Ramírez, José Guadalupe Aguilera, Ciudad Guadalupe Victoria, Antonio Amaro, Ramón Corona, Colonia Hidalgo, Cinco de Mayo, Victoria Durango, El Nayar, Villa Unión, Vicente Guerrero.
The map also shows the towns (pueblos) of:

La Sauceda, Francisco Javier Mina, San José de Avino, Alvaro Obregón, Luis Moya, Venustiano Carranza, Juan Aldama, Ignacio Allende, Emiliano Zapata, Francisco R. Serrano, Francisco I. Madero, Calixto Contreras, Emiliano Zapata, La Roca, San Angel, Héroes de Chapultepec, Castillo Najera, José Guadalupe Rodríguez, Parrillo Puerto, Cuauhtemoc, San Marco, Colonia 20 de Noviembre, General Carlos Real, las Huertas, El 2 de Abril, Pedro Vélez, Colonia Purísima, Ignacio López Rayón, El Tokoso, Juan R. Cevallos, San José del Molino, Francisco zarco, Morcillo, francisco Villa Viejo, El Arenal, Independencia y Libertad, Tuntan, Cieneguilla, Narciso Mendoza, La Ochoa, Heroe de Nacozori, Dolores Hidalgo, José Refugio Salcido, los Angeles, El Durazno, La Terreria, El Pilar de Zaragoza, Colonia Minerva, Nombre de Dios, Rojas, La Joya, General Gabriel Hernández, Santiago Balacoya, Plan de Ayala, Tomas Urbina, Nicolás Romero, El Venado, Amado Nervo, Gral. Gabriel Hernández, Boca de Mezquital, San José de la Parrilla, San Francisco Javier, San Isidro de Murillos, La Flor, El Troncon, Cebollitas Milpillas Chico, San Francisco del Mezquital.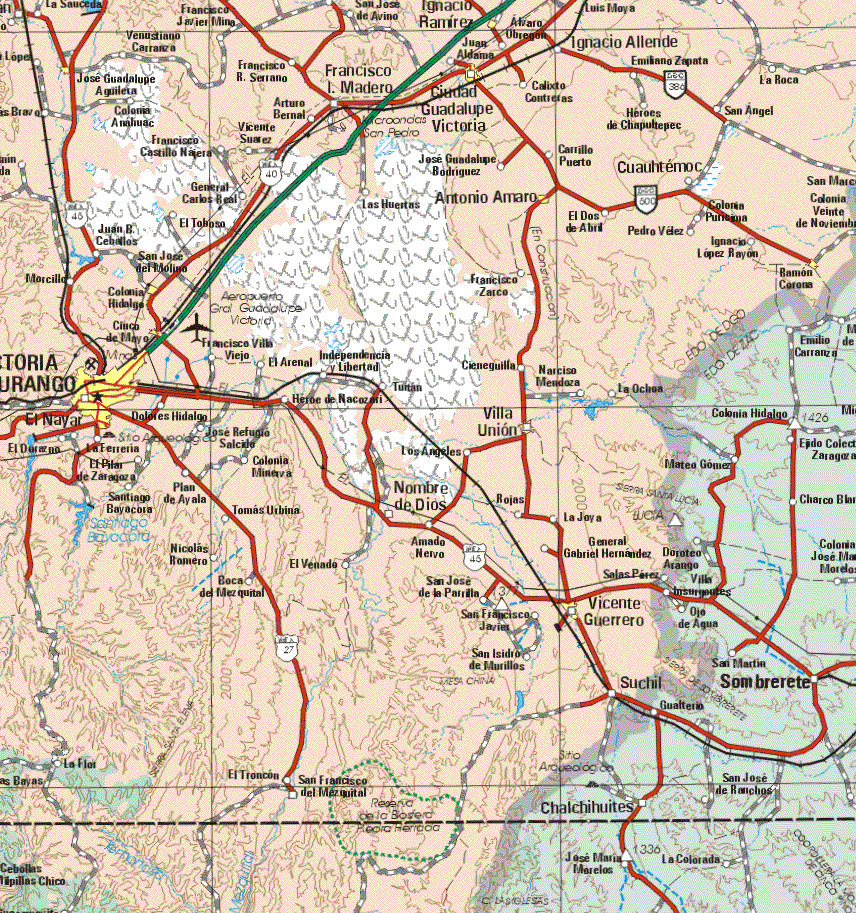 Back to the main Durango, Mexico map
durango map, durango maps, durango, durango mexico, map of durango, mapa de estado, where is durango?, mapas de durango, mapa de durango, durango mexico, map of durango, maps of durango, durango mexico, durango state, durango tourism, durango vacation, durango vacations, durango travel, durango mexico, durango