Durango, Mexico map, N.W. Section 6/16

This map shows the major cities (ciudades) of:


Santiago Papasquiaro, Nuevo Ideal.
The map also shows the towns (pueblos) of:

José Maria Morelos, José Maria Morelos y Pavón, Las Delicias, El Pitoreal, Ciénega de Escobar, Poblado de Peña, El Palmito, El Vergel, General, Escobedo, San Francisco de Asís, General matamoros, Potrero de Campa, San José de Ramos, Emiliano Martínez, Casas Blancas, La Purísima, Santa Rita de Casa, San José de la Boca, Santa Catarina de Tepehuanes, Presidio de Arriba, Los Herrera, Atotonilco, San Julián, La Campana, Ignacio Zaragoza, palestina, Benito Juárez, Buena Unión, Los Altares, José Maria Morelos, Lugar de Rosas, Doctor Castillo del Valles, Nuevo San Diego, Bajos del Pinito, Ratio, Pinos Altos, Nicolás de Arriba, Guillermo Prieto, El Pajarito, San Antonio de la Sierra, Aranes, Villahermosa, Esfuerzos Unidos, Guatimape, Jejamen, La Soledad, Puelagos, Santa Maria de Otates, san Francisco, Piedra, La Plazuela, La Alameda, La Laja, La Soledad, Arnulfo R. Gómez, Ciénega de Otros, piedra de Amolar, El Progreso, Cieneguitas.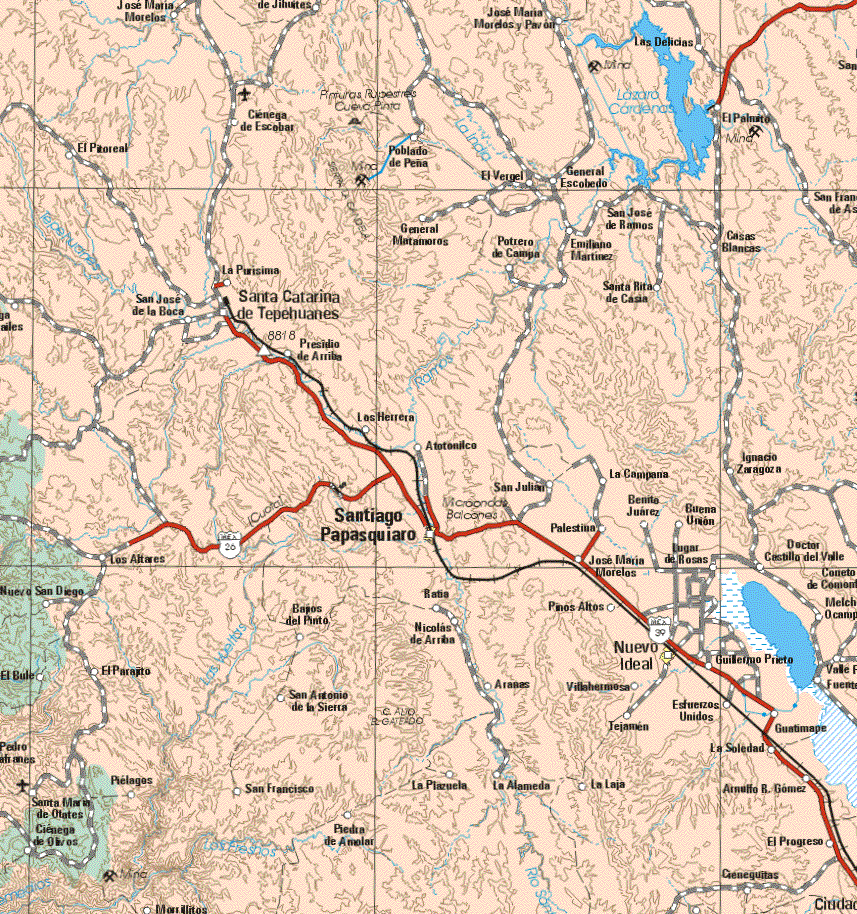 Back to the main Durango, Mexico map
durango map, durango maps, durango, durango mexico, map of durango, mapa de estado, where is durango?, mapas de durango, mapa de durango, durango mexico, map of durango, maps of durango, durango mexico, durango state, durango tourism, durango vacation, durango vacations, durango travel, durango mexico, durango