Coahuila, Mexico map, N.E. Section 7/16

This map shows the major cities (ciudades) of:

Zaragoza, Morelos, Ciudad Melchor Muzquiz, Palau, San Juan de Sabinas, Nueva Rosita, Cloete, Agijita, Sabinas, Minas de Barroteran, San José de Aurora, Escobedo, Progreso.



The map also shows the towns (pueblos) of:

San Gerónimo, Los Pintos, Mina El Tule, El Tule, Las Albercas, Las Cuevas, El Mimbre, El Consuelo, La Comunidad, Los Alamos, La Becerra, Dos Hermanas, San Lorenzo, La Leona, El Encino Solo, Los Blancos, El Nacimiento Kikapoo, Santa Isabel, La Iguana, Morelos, Las Rucias, El Divisadero, Sante Maria, Puente Negro, La Paloma, El Encino, Arroyo Hondo, El Potrero, Ejido el Cedral, Villa las Esperanzas, Minas las Floridas, El Sauz, La Dorita, Cerro del Barril, Minas la Luz, Ejido las Iglesias, San Marcos, Veintinueve de Noviembre, Obayos, Ejido San Alberto, Ramírez, Ignacio Zaragoza, Ejido San Lorenzo, La Vaquita, Ejido San Antonio de la Cascada, Estación Hermanas, Ejido Primero de Mayo, El Borrego.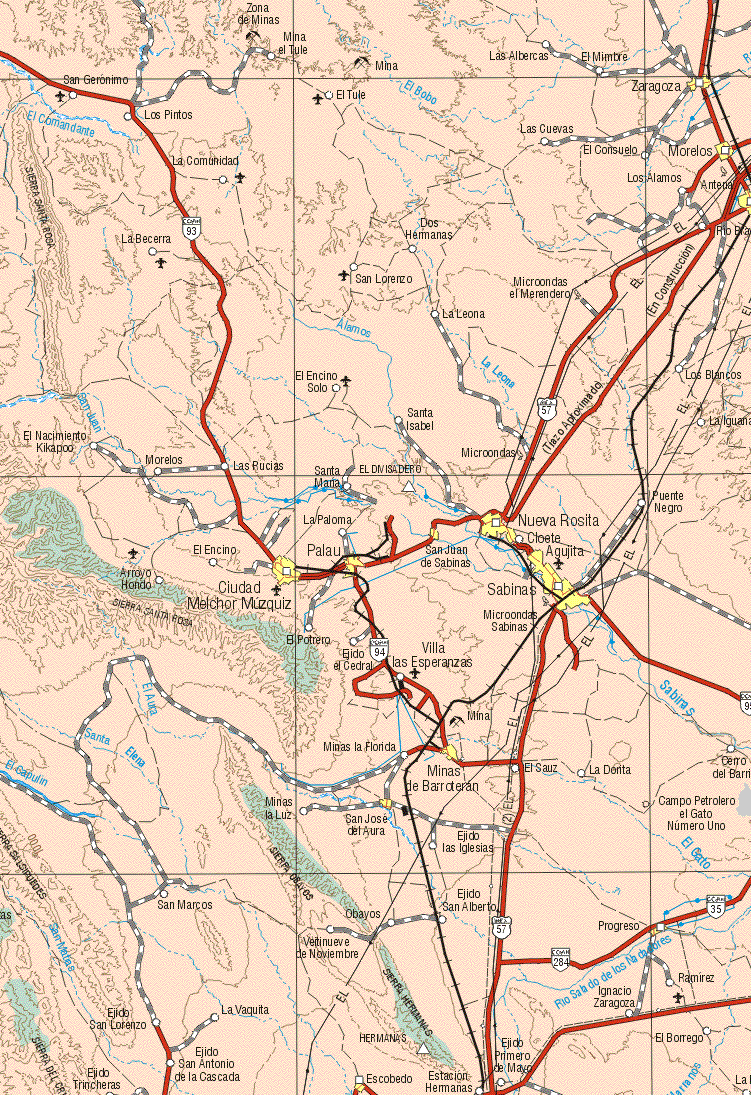 Back to the main Coahuila, Mexico map
coahuila map, coahuila maps, coahuila, coahuila mexico, map of mexico state, mapa de estado, estado de coahuila, coahuila state map, where is coahuila?, mapas de coahuila, mapa de coahuila, coahuila mexico, map of coahuila, maps of coahuila, coahuila mexico, coahuila state, mapa del estado de coahuila, coahuila tourism, coahuila vacation, coahuila vacations, coahuila travel, coahuila mexico, coahuila