Chihuahua, Mexico Map, S. Section 14/16

This map shows the major cities (ciudades) of:

El Vergel.



The map also shows the towns (pueblos) of:

Serradero Buenavista, Basochi, Gral. Carlos Pacheco, Mariano Belleza, Tonachi, El fraile, Todos Santos, Santa Anita, Agua Zarco, Caborachi, San Rafael de Agostadero, La Magdalena, Agua Blanca, Guachochi, Los Pilares, Río Santa Rita, Baños de Arriba, Cumbre de Sinforosa, Iguachi, El Reparo, Coloradas de la Virgen, San Carlos, Baborigame, Guasachique, Laguna Juanota, Las Lagunas, San Juan Nepomuceno, Puerto los Chiles, el Tajamanil de Abajo, El Plátano, Rosalía de Arriba, Guadalupe y Calvo, Turachi, Santo Niño, Yerbitas, Dolores, ventanas, La Ciénega de Silva, San Ignacio de los Almazán, Casas Blancas, Mesa de San Rafael, Atascaderos, Mesa de los Perdidos, Potrero de la Lumbre.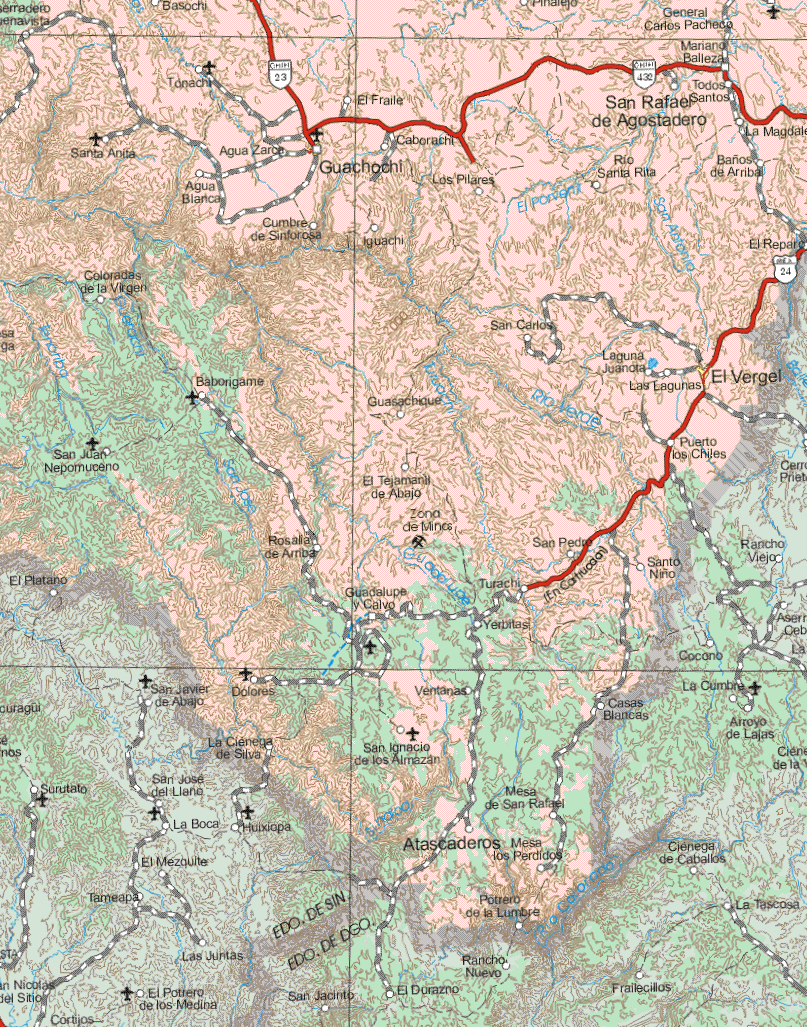 Back to the main Chihuahua, Mexico map
chihuahua map, chihuahua maps, chihuahua, chihuahua mexico, map of mexico state, mapa de estado, estado de chihuahua, chihuahua state map, where is chihuahua?, mapas de chihuahua, mapa de chihuahua, chihuahua mexico, map of chihuahua, maps of chihuahua, chihuahua mexico, chihuahua state, mapa del estado de chihuahua, chihuahua tourism, chihuahua vacation, chihuahua vacations, chihuahua travel, chihuahua mexico, chihuahua