Chiapas, Mexico map, N.E. Section 7/16

This map shows the major cities (ciudades) of:

Ocosingo, Velasco Suárez, Las Margaritas.



The map also shows the towns (pueblos) of:

Sacjun Guadalupe, Jol Sacjun, Pena, Limonal, Joltulija, Colonia Nueva Esperanza Progresista, Metza Boc, La Areria, Ubitio García, Arroyo Granizo, Busilija, Arroyo Jerusalén, El Desempeño, Lacandon, Zaragoza, Santo Domingo, El Carmen, Sival, El Limonar, La Carija, Cintalapa, Queshil, Monte Libano, Placido Gómez, Santa Elena, El Censo, Sushila, Campet, Agua Azul, Tani Peril, Altamirano, Las Tazas, El Zapotal, La Laguna, Venustiano Carranza, Belisario Domínguez, La Sultana, Plan de Guadalupe, Nueva Virginia, Veinte de Noviembre, Nuevo México, San Antonio Bahuitz, Justo Sierra, Bajucu, Lomantan, Plan de Ayala, Aquiles Serdan, Ramón F. Balboa, San Quintin, Tierra y Libertad, Vicente Guerrero, Nuevo Momon, Chiapas, Veracruz, Francisco I. Madero, Yaxha.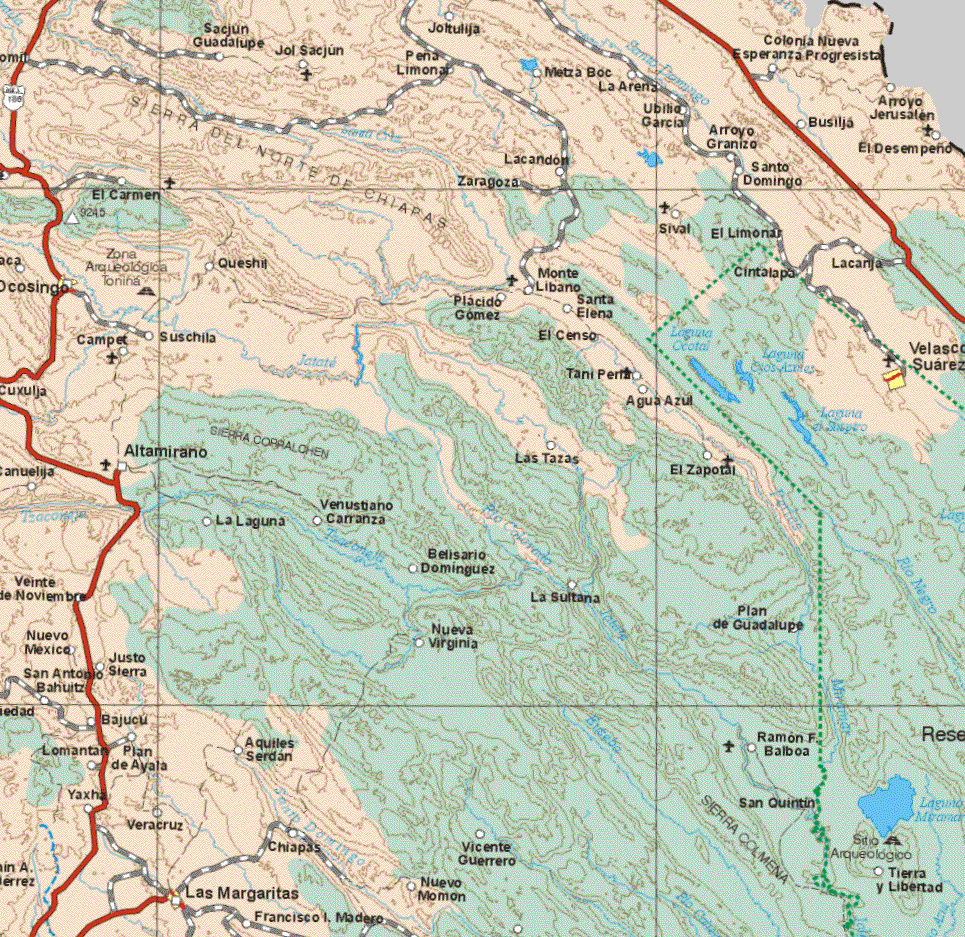 Back to the main Chiapas, Mexico map
chiapas map, chiapas maps, chiapas, chiapas mexico, map of mexico state, mapa de estado, estado de chiapas, chiapas state map, where is chiapas?, mapas de chiapas, mapa de chiapas, chiapas mexico, map of chiapas, maps of chiapas, chiapas mexico, chiapas state, mapa del estado de chiapas, chiapas tourism, chiapas vacation, chiapas vacations, chiapas travel, chiapas mexico, chiapas