Campeche state, Mexico map, N.E. Section 7/16

This map shows the major cities (ciudades) of:

>Campeche, Lerma, Pomuch, Tenabo, Alfredo V. Bonfil, Champoton.



The map also shows the towns (pueblos) of:

San Antonio How, Kanki, Tises, xcancheil, Chavi, San Francisco Kobes, Hsmpolol, Chem Blas, Nilchi, Castanay, Emiliano Zapata, pueblo Nuevo, San Antonio Cayal, San antonio Bobola, China, Pocyacim, San Agustín Ota, Uayamon, San Francisco Suc Tec, Crucero San Luis, Nokayal, Xkestil, El Pocito, Santo Domingo Keste, La joya, Cuidad del Sol, Villa Madero, Paraíso, Sihochac, San Jose Carpizo N.2, San jose Carpizo N.1, San Antonio del Rio, Arellano, Santa Cruz de Rovka, Adolfo Ruiz Cortinez, Pich, nuevo Michoacán, Melchor Ocampo, Quetzal Edzna Modulo Uno, Sistema de Riego del Valle de Edzna, San Miguel Allende.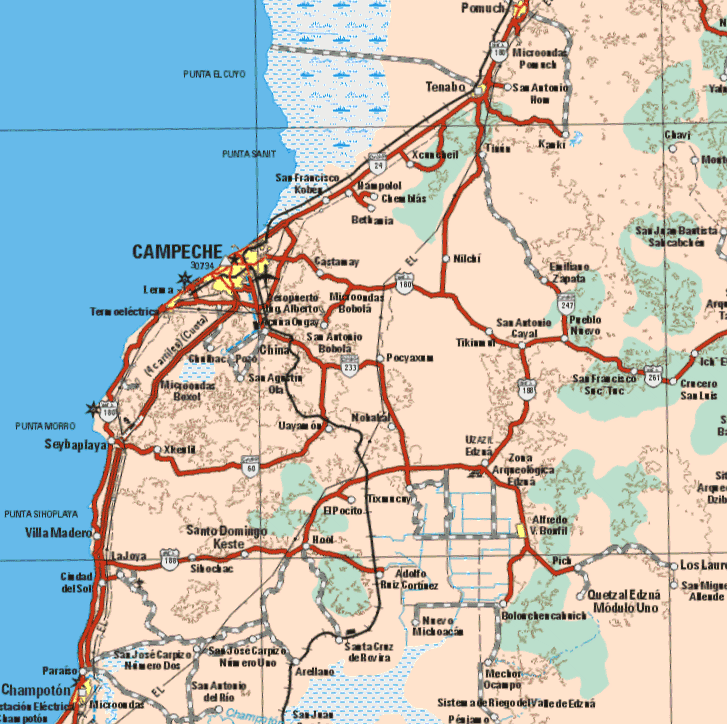 Back to the main Campeche, Mexico map
baja california map, baja california maps, baja california, baja california mexico, map of mexico state, mapa de estado, estado de baja california, baja california state map, where is baja california?, mapas de baja california, mapa de baja california, baja california mexico, map of baja california, maps of baja california, baja california mexico, baja california state, mapa del estado de baja california, baja california tourism, baja california vacation, baja california vacations, baja california travel, baja california mexico, baja california