Baja California Norte Mexico Map N.W. Section 1/16

This map shows the major cities (ciudades) of:

Tijuana, Plan Libertador, Playas de Rosarito, Valle Bonito, El Florido, Ejido Ojo de Aguacañada, El Alamo Bonito, Tecate, Ejido Nueva Colonia Hindu, Fraccionamiento el Ranchito, Jardines del Rincón, Los Manantiales, Colonia Luis Echeverria Alvarez, Francisco Zarco, Ensenada, Rodolfo Sánchez taboada.



The map also shows the towns (pueblos) of:

San Antonio del Mar, La Joya, Jose Maria Morerlos y Pavon, El Dorado, Valle las Palmas, Ejido Jacurre, Agua Hechizera, Ejido Heroes del Desierto, Ejido Carmen Serdan, Ejido Ignacio Zaragoza, primo Tapia, la Zorra, San Jose de la Zorra, Ejido San Marcos, Francisco Zarco, Ejido la Misión, el provenir, San Antonio Flecua, San Marcos, Villa de Juárez, El Sauzal Rodríguez, Cabo Banda, La Joya, Ejido Nacionalista de Sánchez Taboada, Colonia Cañon Buenavista, Ejido Uruapan, Tres Hermanos.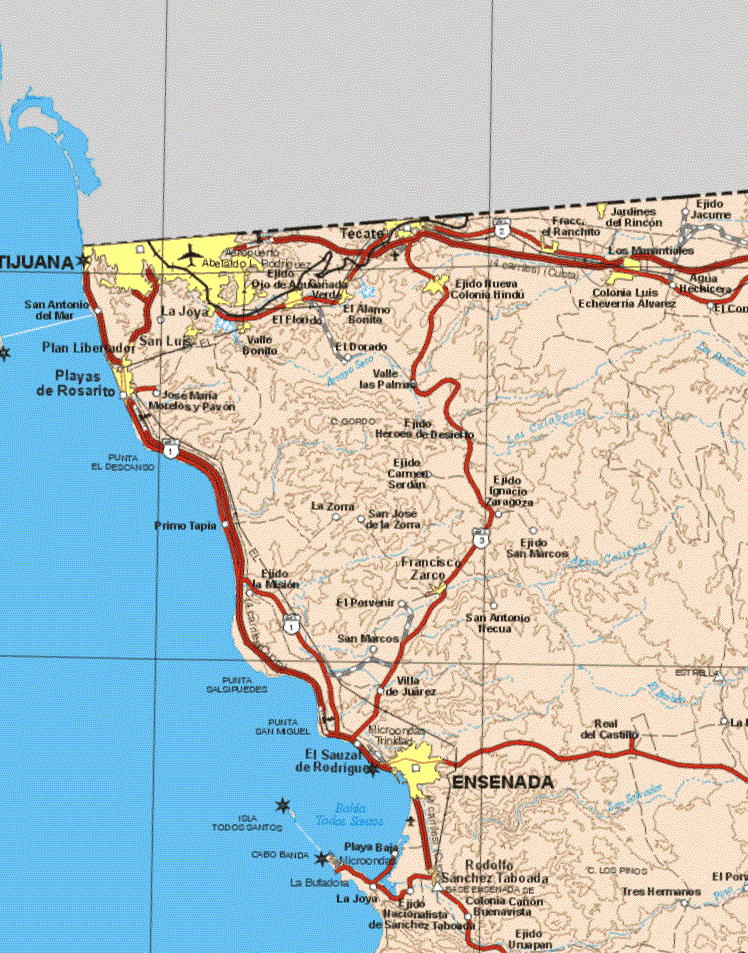 Back to the main Baja California Norte, Mexico map
baja california map, baja california maps, baja california, baja california mexico, map of mexico state, mapa de estado, estado de baja california, baja california state map, where is baja california?, mapas de baja california, mapa de baja california, baja california mexico, map of baja california, maps of baja california, baja california mexico, baja california state, mapa del estado de baja california, baja california tourism, baja california vacation, baja california vacations, baja california travel, baja california mexico, baja california